2021 August Market Report


Each month we crunch data from the South Shore and Cape Cod Association of Realtors® Multiple Listing Services (MLS) to help our clients and community better understand the state of the local real estate market as we continue through the first half of 2021.
This report is for single family homes in Plymouth County and Barnstable County. Please note Condos, Multi-family homes and land are excluded.
One thing here at ALANTE we have noticed is the question on everyones mind. we want to address this and we want to start with, really, the validation and worry associated with that question. Here is what we know from research and data.
What we know is home prices have increased this year, and they're increasing quickly, and the rate by which they're increasing each month is going up. This is true. This green informational graph is showing a year-over-year price appreciation and how that is also accelerating and growing.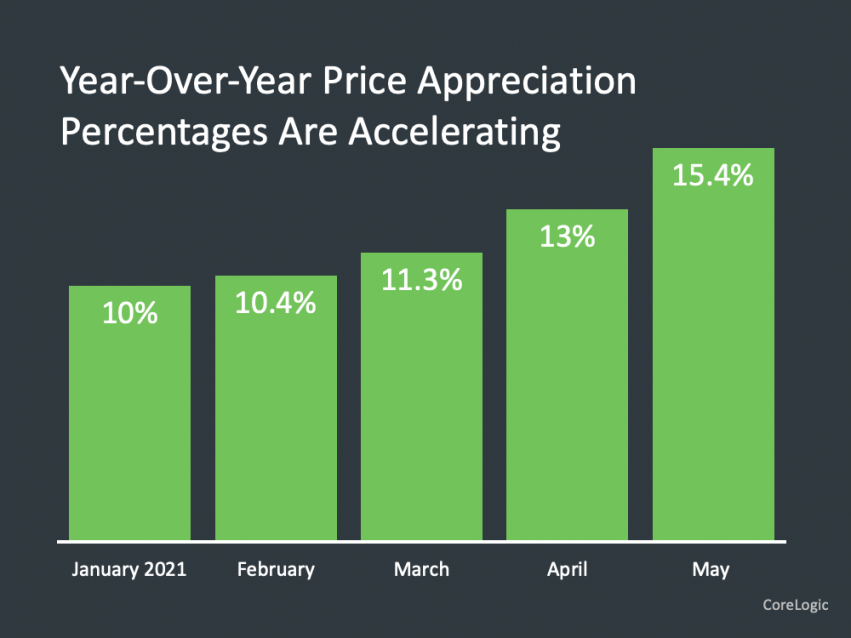 There are marked differences in today's run up in prices compared to 2005, which was a bubble fueled by risky loans and lenient underwriting. Today, loans with high-risk features are absent, and mortgage underwriting is prudent." So, I think we know that in our business. Certainly, if you were around in 2008, you remember all the loan products that were in the market that aren't there today, but maybe somebody that you're working with thinks I heard that those loans products were coming back. Here's a great way to show them the reality of the market. The Fed just came out and said, "Mortgage originations with a credit score below 620 comparing 2006 to last year. Back in 2006, $376 billion was originated in this country with a credit score of 620 on a mortgage loan. Last year, it was just 74 billion."
(Dr. Frank Nothaft)
So, what we do in fact know today, is that those that are buying homes and are qualified, have better credit. This is very, very different from what we saw back in the housing crisis a while ago however.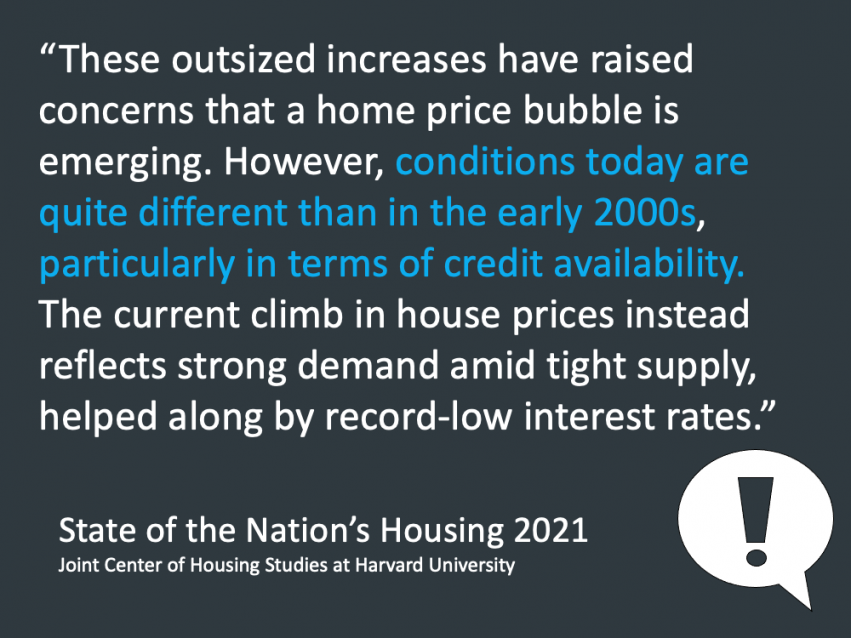 Are we in a housing bubble?
The short answer is no, we are not in a housing bubble. Many understandably are thinking that we are indeed in one however, this is simply incorrect. Let me break it down a bit and explain. It's an overall textbook supply-and-demand issue.
The imbalance of supply and demand we've talked about extensively, is making us look at rapid price acceleration and then many are going, "Gosh, this feels unstable. This feels like last time," and this graphic to the right probably is the best graphic to communicate where we're at as of now. Completed housing going all the way back to the '70s, in which you can see for the past 13 years, we have been below the 50-year average.
There were literally more homes being built in this country back in the '70s and '80s than there have been in the last ten years, and that's causing the issues that we have now in 2021! (How fascinating)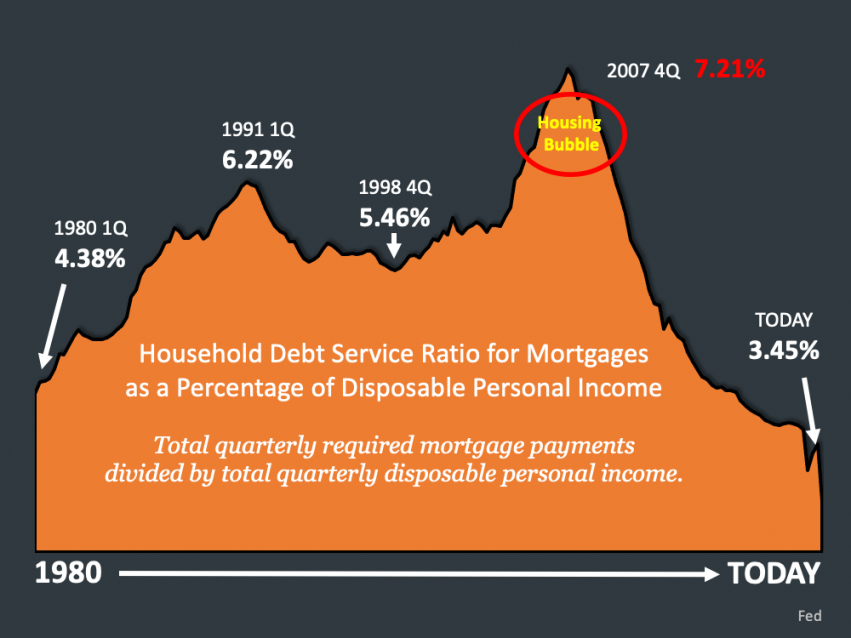 Flash forward a bit, the pandemic begins and everything is on pause instantaneously. Homes become so much more important as EVERYONE is working from home and switching up the at home lifestyle, interest rates drop, and everybody wants to buy or expand. That's the reality of where we've been, and we don't literally have enough homes to keep up with population growth across the country and want to move, and it's fueled this large spike in prices. and thus, our theory comes to life. The supply and demand begins rapidly.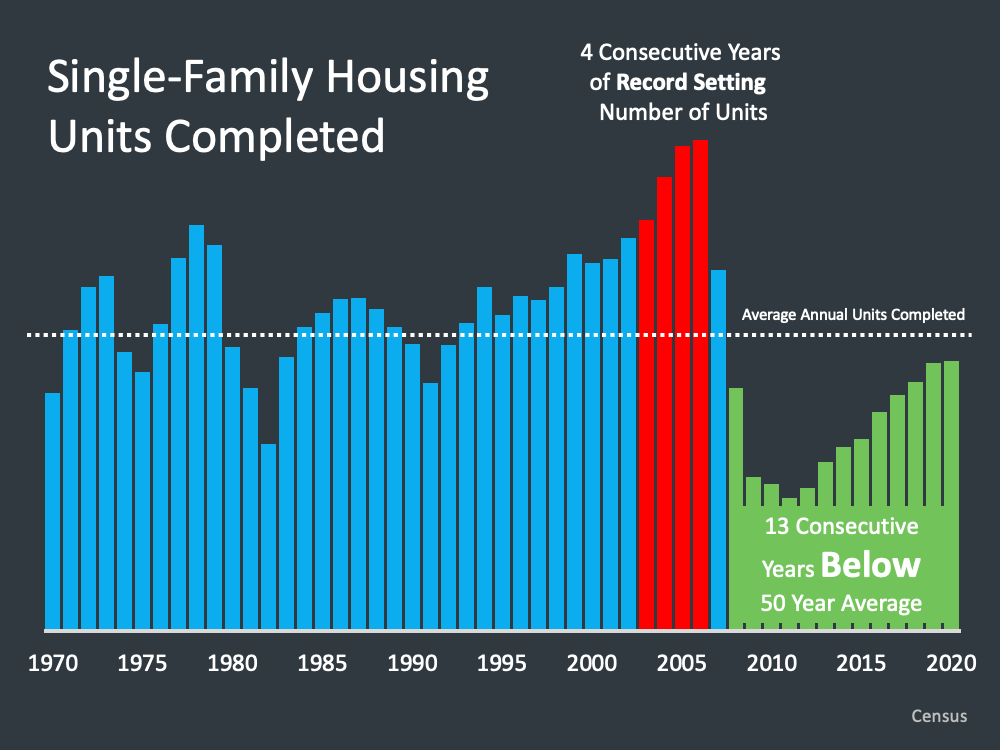 The next question I look at is foreclosures and the future of possible foreclosures. Are we going to see a wave of foreclosures coming to the market? Now, let's dive in with a look at where experts originally projected forbearance would lead.
So, originally, experts said 30 percent of all mortgages would go into the forbearance program, and all of those would eventually lead to foreclosures (yikes!) Now, what we do know is that in reality, that number topped out at 8.47 percent of mortgages, and today, it's down to three and a half percent, and of that three and a half percent that equates to 1.86 million mortgages.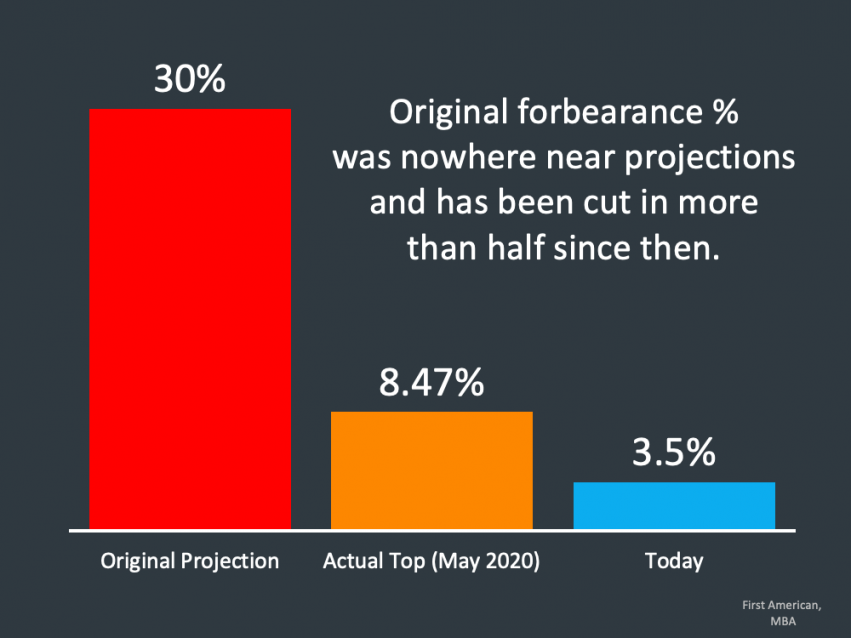 Now, for a moment lets talk about what happens when homeowners exit the forbearance plan. Now, you've seen this all before, (this is the most current data as of July 11th of this year), and what this pie graph to the right shows is that the green and the blue sections, the majority of homeowners exiting the forbearance plan are walking away just fine.
They've either come current on their payments, or they've worked out a plan with their lender, such as a loan deferral or a modification, something that they didn't have the opportunity to do in 2008 (this is good!) And what you're going to see over time is that that blue section is going to continue to get a little bit larger, and that's because more people are working out plans with their lenders and working to the goal of keeping their home. So, that's a huge differentiator. Where we may still have an issue is the red section, the homeowners that are leaving the forbearance plan without a loss- mitigation plan.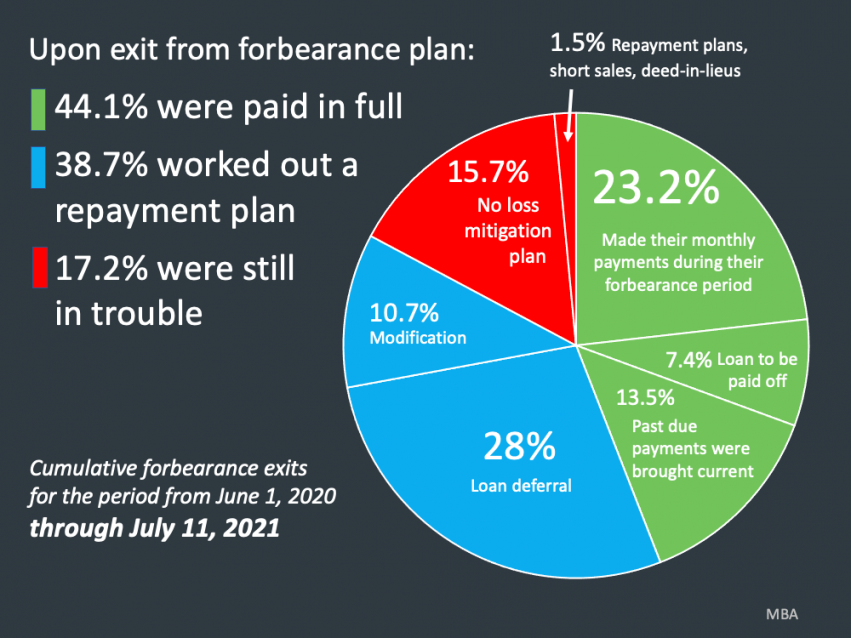 Now, the good news is that 87 percent of homeowners that are in the forbearance plan have at least ten percent equity. So, what does that mean? That means that those homeowners can sell actually their home, protect their investments and avoid the foreclosure process altogether. That's huge, and in reality, experts are saying that the number of homes that could still go to foreclosure is roughly 200,000 to 300,000 mortgages.
Of course it goes without being said, that the percentile of people who do end up in the foreclosure process our hearts go out to you truly. We never want to see that happen. However, to put that number into context, it's vastly different than where we were the last time around.
Overall, This is something we of course never want to see happen again, and in reality, what we're talking about today, 200,000 to 300,000 homes, that is vastly different than the landscape of 9.3 million households.
Like the data has been showing, the numbers just doesn't support that there will be a foreclosure crisis, and Ivy Zelman, a trusted expert that I follow as well, industry leader, is saying the same thing. "The likelihood of having a foreclosure crisis again is about zero percent."
Now, for those homes that do come to the market as foreclosures, they're going to be scooped up very quickly. Inventory today is so incredibly low due to the supply and demand mentioned earlier. Buyers are clamoring for homes to buy. So, we won't see massive price declines or deductions. The data just simply doesn't support this.
So, the best thing we can be doing right now in regards to this ever changing market is talking about this in our platforms and within experts to help people understand what the data is showing and really being able to confidently answer the question, "Are we going to see a wave of foreclosures?" because it simply isn't going to occur.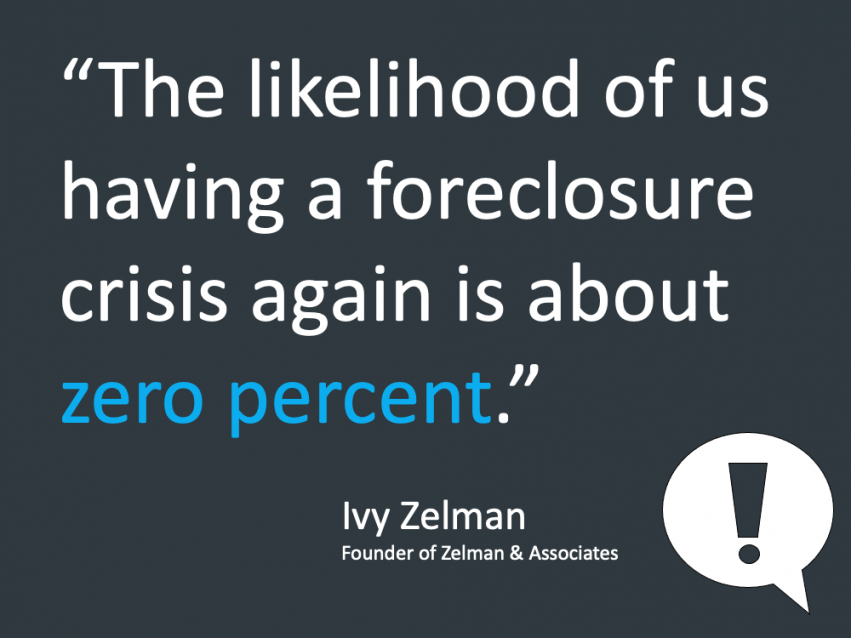 LET'S TAKE A CLOSER LOOK AT HOW YOUR TOWN DID IN JULY OF 2021
⤵️
In the Town of Plymouth, home sales have increased through the month of July and June from 29 homes in May. The Average Days on Market remained relatively steady at less than one months time. The the Average Sale Price has been steady around 500k the last few months however it did rise 24K. We are seeing more homes on the market in July as the current homes for sale has increased overall to 44.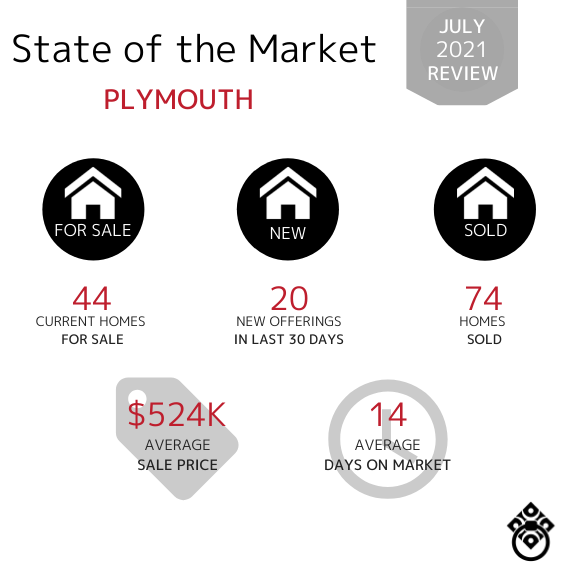 In the Town of Hingham, the number of new homes entering the market has remained somewhat consistent as usual for the area. The Average Sale Price has remained in the million dollar bracket however up to 1.2 this month. In addition, the town is up to 25 homes sold!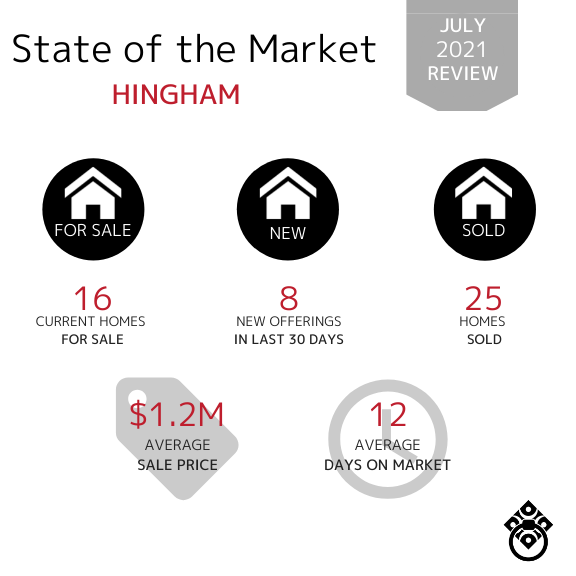 In the Town of Duxbury, the Average Sale Price is in the million dollar bracket. Although with only 11 offerings in the last 30 days. Home sales have stayed relatively the same month over month as well as less days on the market for the month of July.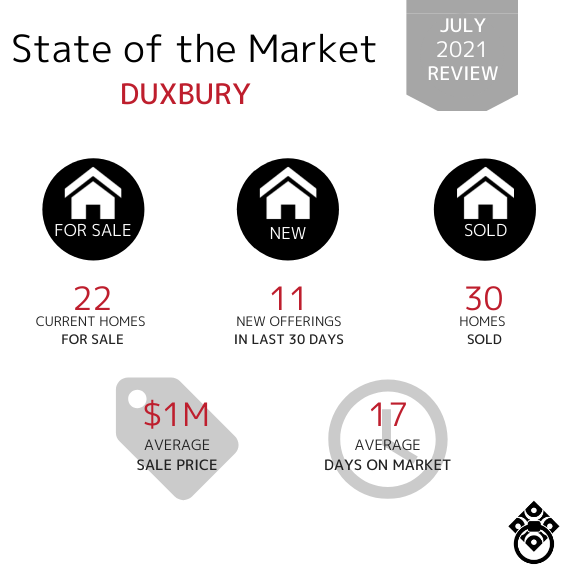 In the Town of Marshfield, the number of homes sold remained consistent from January through July. The time properties are on the market on average has decreased from 20 in June back down to 9 like months previous (May). The Average Sales Price has increased again to $732K!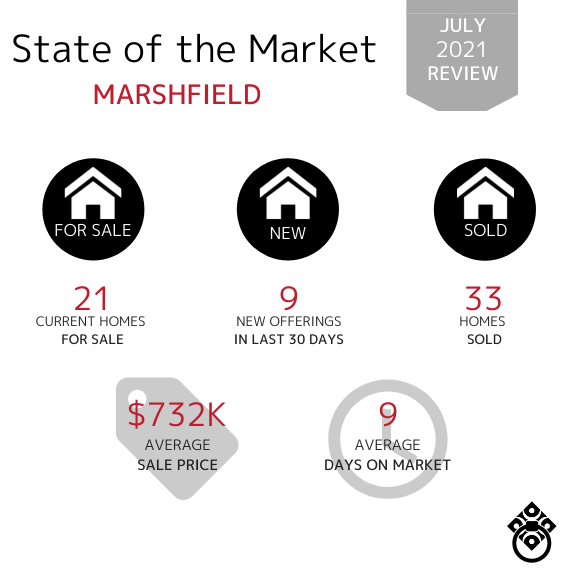 In the Town of Sandwich, the number of new offerings has increased slightly over the last three months. The number of homes sold has increased since the month of June. The Average Sale Price has jumped a large amount this month form the high $500K to $725K! This is a large jump.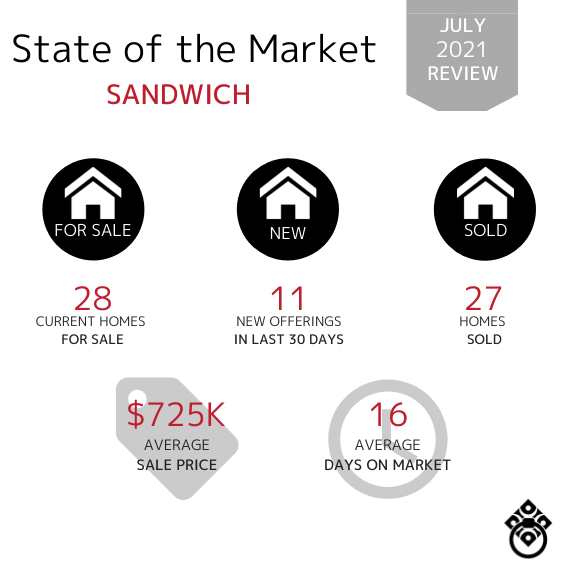 In the Town of Mashpee, the Average Sale Price increased significantly from 750k in February to a few moths later to the million dollar bracket. The Average Days on Market have decreased significantly to compared to March of 111 days. That is a HUGE change. The number of homes sold has remained consistent month over month but has increased by one from 18 to 19 since the month of June.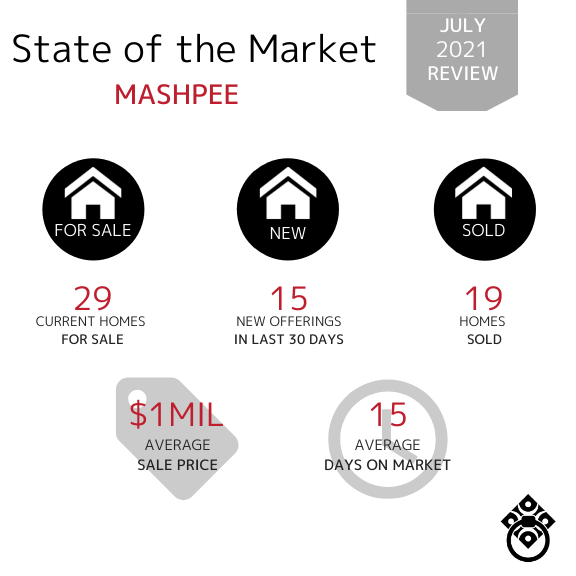 In the Town of Falmouth, the Average Sale Price has decreased from $986K in April to $736K in July. With limited inventory in most towns, there are still a good amount of new homes entering the market as we moved through the month of July although resulting in a decrease the past month. The number of homes sold has decreased from in the 50's to 45.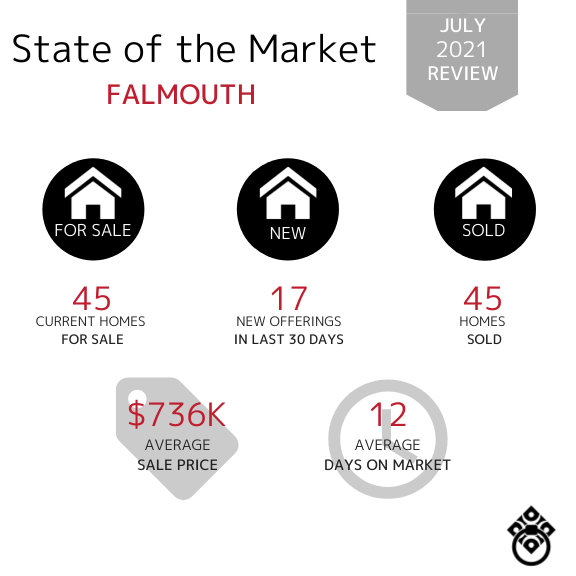 ---
If your town wasn't included in this report,
click here and let us know. We'll be happy to get you that data!
Learn How Much Equity Your Home Has Gained...
Experience matters, now more than ever.
Do you need help with Buying or Selling in this extremely active market?
Let us be your guide.
*Market Information obtained from MLSpin, Cape and Islands MLS and Keeping Current Matters*