2021 September Market Report 📈


Each month we crunch data from the South Shore and Cape Cod Association of Realtors® Multiple Listing Services (MLS) to help our clients and community better understand the state of the local real estate market.
This report is for single family homes in Plymouth County and Barnstable County. Please note Condos, Multi-family homes and land are excluded.
One thing here at ALANTE we have been taking about, a big look at is the drop in pending home sales...
Probably the biggest news coming out is the drop in pending home sales. Maybe you've seen that over the last couple of weeks. But all over the news and certainly everyone in the country is seeing that. So let's look at this a little bit and this topic of is the market starting to cool off.
We've seen the headlines out there. We talked about it last month, that it's being talked a lot about. But let's look at pending home sales going all the way back to 2012.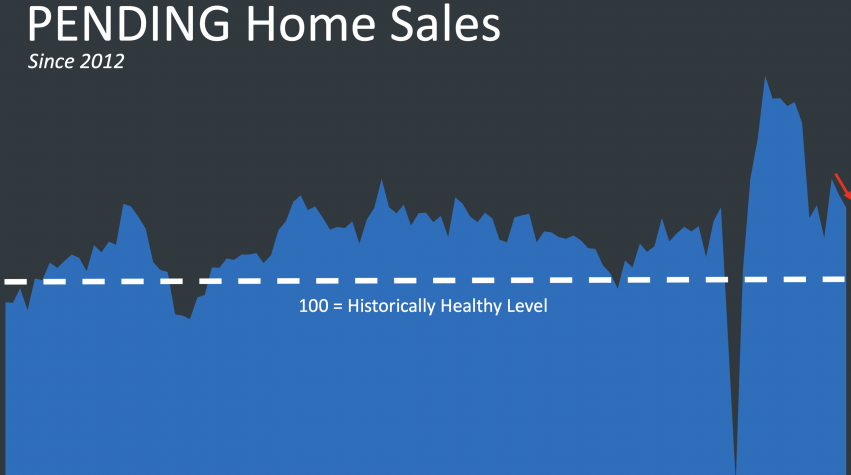 ---
"We are seeing some signs of softening in the housing market. But context is important here. We're still very much in a seller's market. We're seeing some early signs of softening."
-Odeta Kushi
---
Go back to July 2020,
26.8% of the homes sold over list price. June, 50.4. July, 49.6 (homes sold over list price.) So there's your cooling off market there, or what they were saying maybe cooling slightly. Only one out of two of the homes old over list price.
It's still a very, very robust market. Go back to what Odeta Kushi said (quote above). We're seeing some of these slight signs of cooling. But one out of two homes selling over list price certainly is not what we at ALANTE would consider a cooling market. Now, if we want to talk about why we're in the market we're in currently, we have some graphs that I want to share with you that'll help sort of lay this out.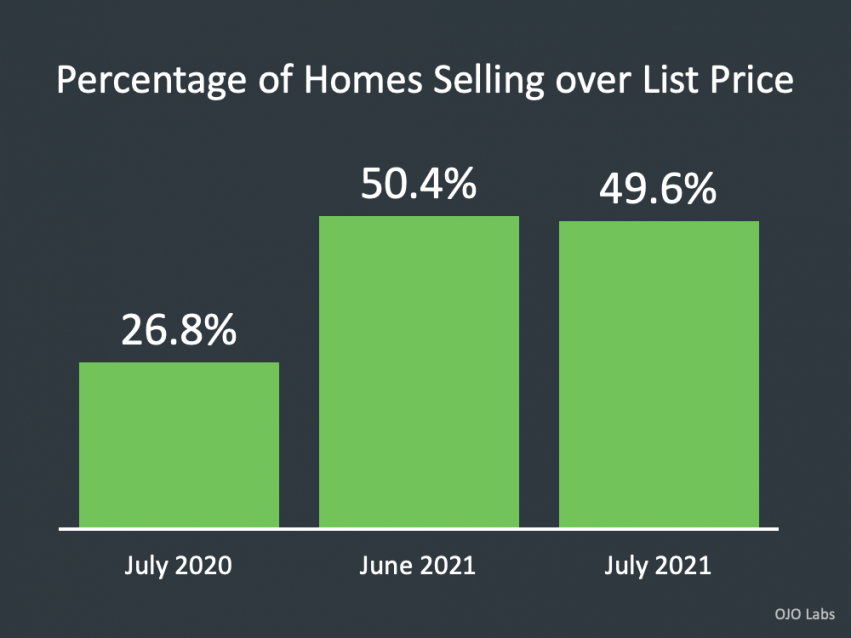 Now we are going to talk about affordability next. And this is a real concern. As people are watching home prices rise today, and they're saying homes just aren't as affordable anymore.
Let's give some insightful context and clarity to be able to ease those fears.
Now, it's no surprise that people have these concerns as they're looking at data like this graph to the right. This is the monthly mortgage payment, and it shows how it's increasing significantly over the past few months. This goes all the way back to April 2020, where we can see those orange bars kind of humming and moving along. And then all of a sudden, March, April, May, June, that monthly mortgage payment is starting to rise. And this is a direct reflection of home price appreciation.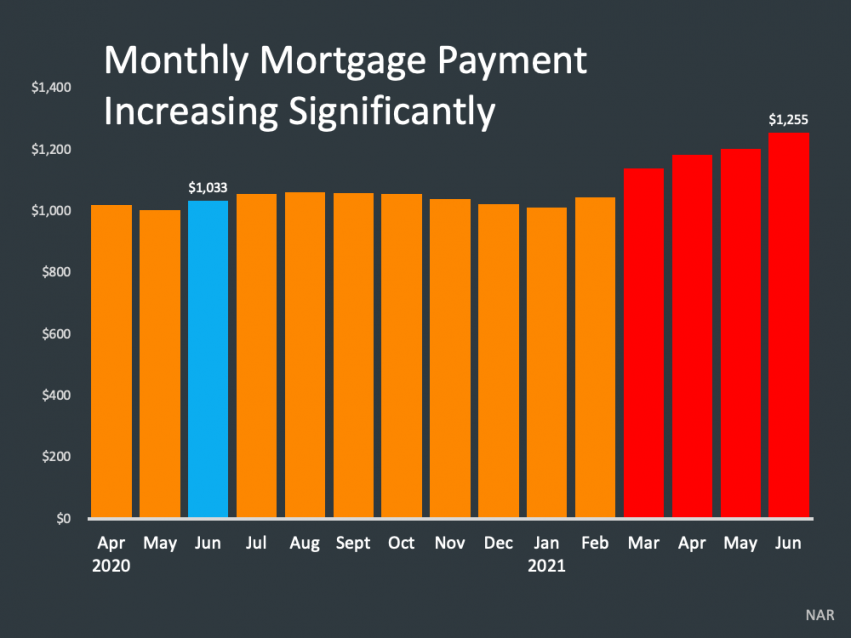 Now, when we look at this contextually, we can see that that rising mortgage payment is contributing to affordability, and affordability is decreasing. And as you know, the higher the bar, the more affordable homes are. If you've been reading this and the previous ALANTE reports, you know that concept.
In January, it was much more affordable to buy a home than it is in the last few months. We can see that affordability decreasing. So when various articles say that homes aren't as affordable as they were a few months ago, that's not up for debate. That is real. That is what the data is saying, and it's starting to spark this fear for consumers, who may be sitting on the sidelines watching this.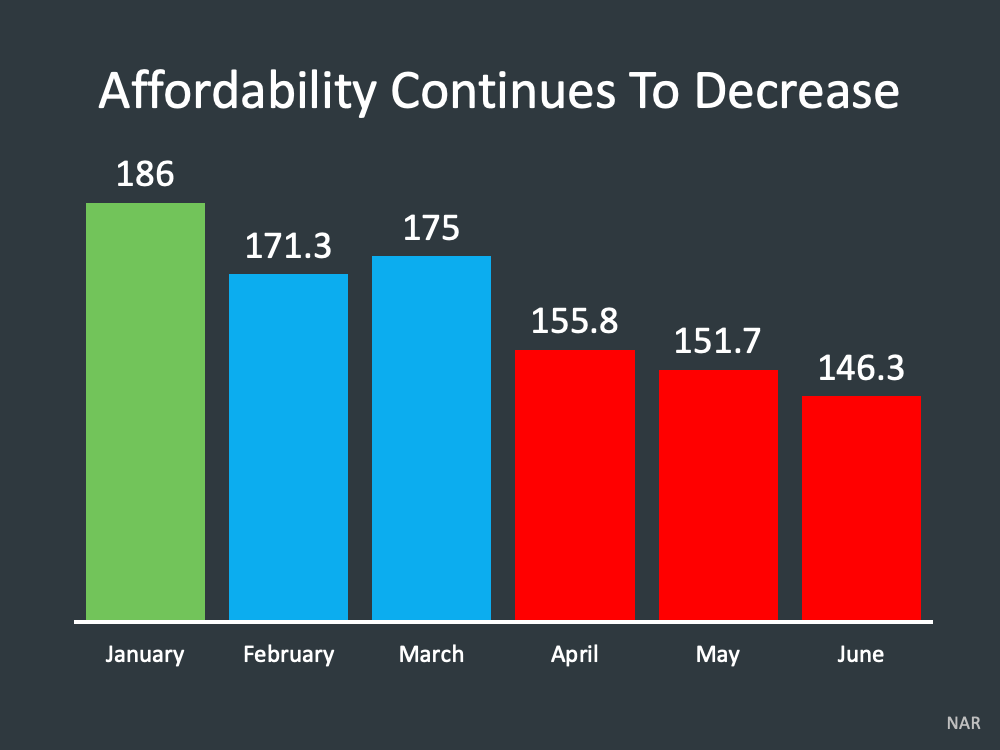 Now what we can see here is that the blue bar over on the right shows that homes simply aren't as affordable as they were even over the past few years. And a lot of times, what people think of when they say homes just aren't as affordable anymore, is they think of that housing bubble bursting. Those are the orange bars.
Are homes as affordable as they were back then, when distressed properties dominated the market? No. They're not. But as we look at this chart, we can see that homes are much more affordable today than they were at any point leading up to the housing crisis. Now, this takes into consideration as you know wages, prices, mortgage rates. So all of those factors combined, we can see that homes are still affordable today. But you're not going to get the deal that your neighbors and your friends maybe got a few months ago. So that's the price appreciation starting to play into affordability.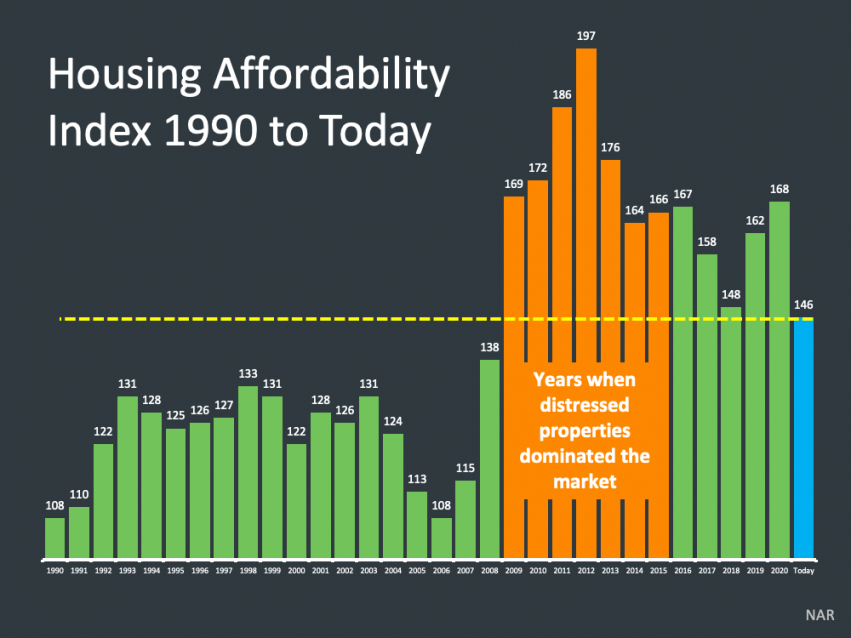 The Renter's perspective 🏡
Now where this becomes a real concern is when we talk about renters who are sitting on the sidelines. So you've seen this graph before as well in previous ALANTE market reports.
This is median asking rent, going all the way back to 1988. And it is continuing to climb year after year. And it is truly skyrocketing over the past few years. So as renters are sitting here saying I'm seeing home price appreciation start to really climb. I can't afford to buy a home. I'm not ready to jump into home ownership.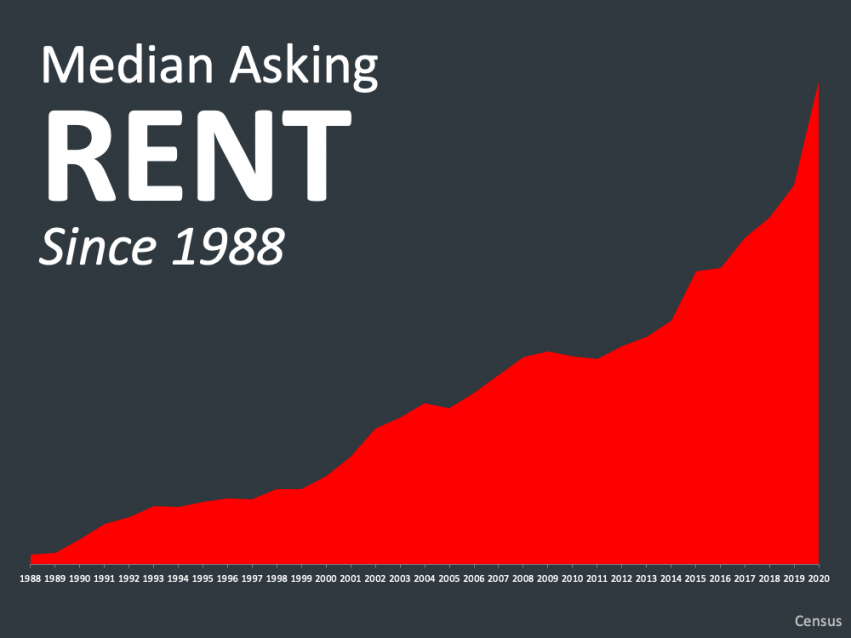 What we need to do is understand the context as well of rent prices rising even more rapidly and the fact that they're not building equity and they're building their landlord's equity. So what we want to do at ALANTE and with this report is really provide that understanding for renters who may be waiting because they're seeing home prices rise. Renting is creating this real long term financial challenge for those who are waiting and continuing to rent.
Now we know everyone is ready to buy a home at a different time. So we have to take individual situations into consideration. But as we do that, we can provide context and clarity in the conversation.
Now, here's another reason why renters may be sitting on the sideline and waiting, and that's because the percentage of income needed for a mortgage payment is also increasing. Again, a reflection on price appreciation. We can see in this red section that that percentage of monthly income that it takes to purchase a home is now climbing even at a faster rate. It's really kind of jumping up.
They're saying 28% of your monthly income can go to a home buying budget and you're still in an affordable range. What is NAR saying?
"The 25% mortgage payment to income share takes into consideration that a homeowner has other expenses, such as property insurance, taxes, utility and maintenance, so that total housing expenses are no more than 30% of income."
Housing costs are not burdensome if they account for no more than 30% of income. So NAR is saying if you keep your monthly mortgage payment to 25%, we know that there's also additional cost. Property insurance, taxes, utilities, and those can also vary by market. So NAR is saying keep the threshold at 25% for principal and interest, and then you will have an affordable opportunity to purchase a home.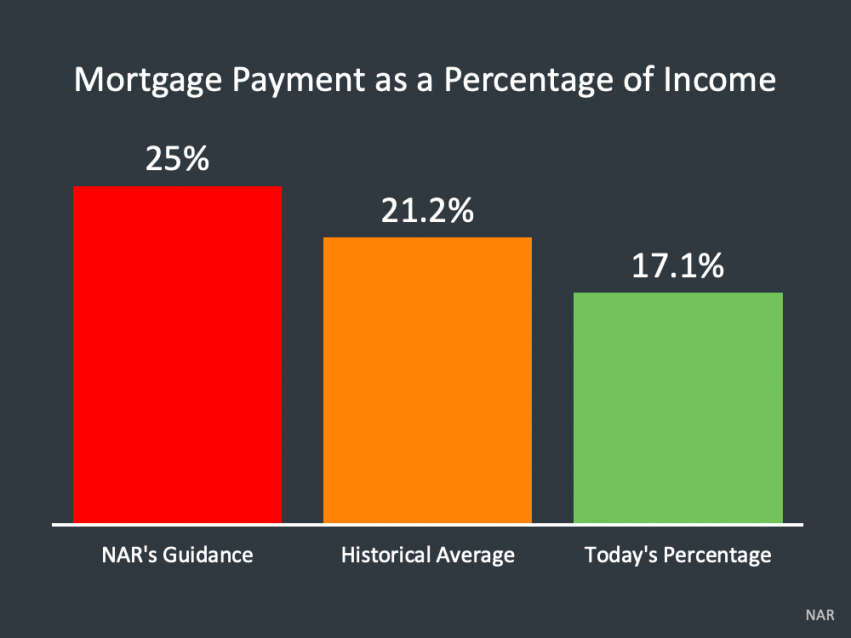 LET'S TAKE A CLOSER LOOK AT HOW YOUR TOWN DID IN AUGUST OF 2021
⤵️
In the Town of Plymouth, the amount of homes on the market have continued to increase from the beginning of the year. The average days on market remained relatively steady at less than one months time with 14 days on average. The average sale price has been steady at around 500k the last few months however it did rise a whopping 100K. We are seeing more homes on the market in August as the current homes for sale has increased overall to 45 from 44.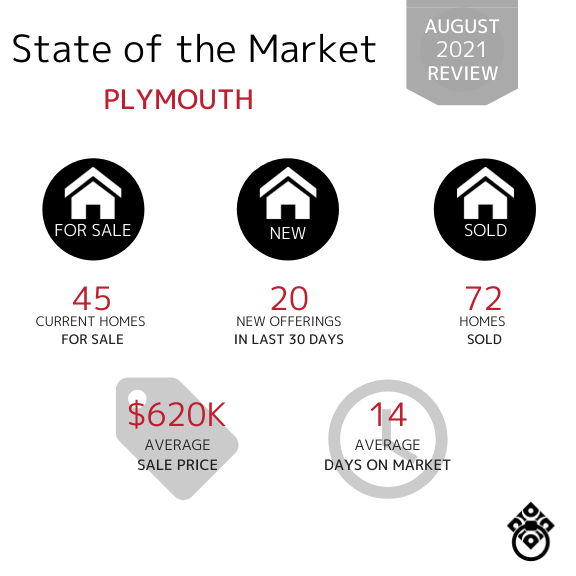 In the town of Hingham, the number of new homes entering the market has remained somewhat consistent as usual for the area. The average sale price has remained in the million dollar bracket at $1.1 million dollars this month. In addition, the town currently has 28 homes sold from January to now in September. This is an average number for the area.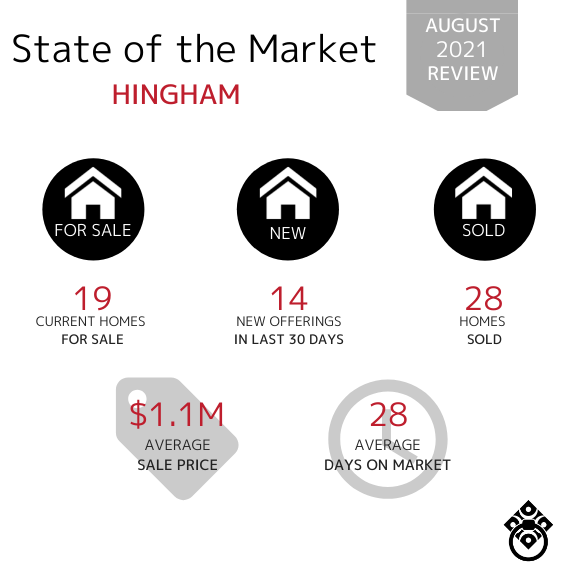 In the town of Duxbury, the average sale price is in the million dollar bracket with $1.2 million dollars. Although with only 10 offerings in the last 30 days, home sales have stayed relatively the same month over month on average. With 21 days in the month of August for average days on the market, this is a steady number on average for Duxbury.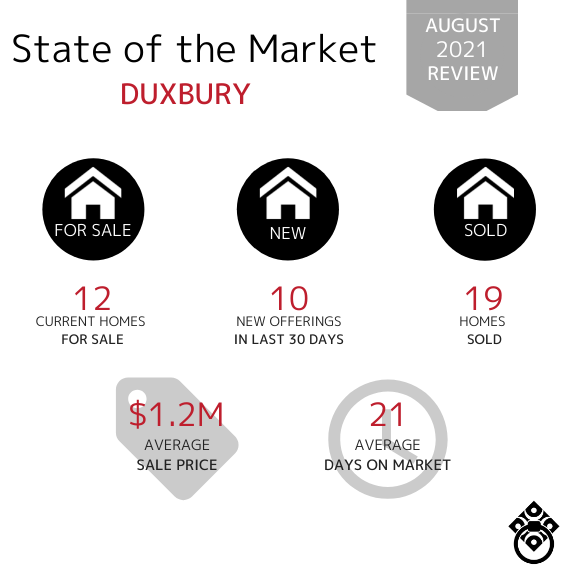 In the town of Marshfield, the number of homes sold remained consistent from January through August. The time properties are on the market on average has increased 20 to 31 days from 20 days on the month of May. The Average Sales Price has increased again to 738K from 732K!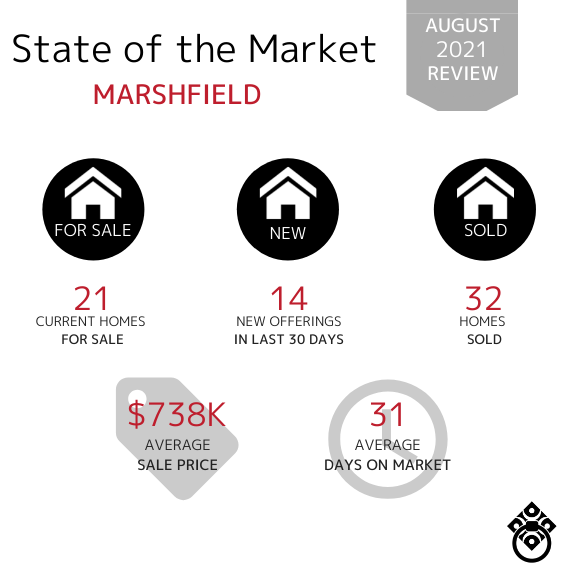 In the town of Sandwich, the number of new offerings has increased slightly over the last three months. For example, in the previous month, the new offerings have risen from 11 to 15. The average sale price has jumped a large amount this month from 725K to 800K ! This is a large jump for ONE MONTH!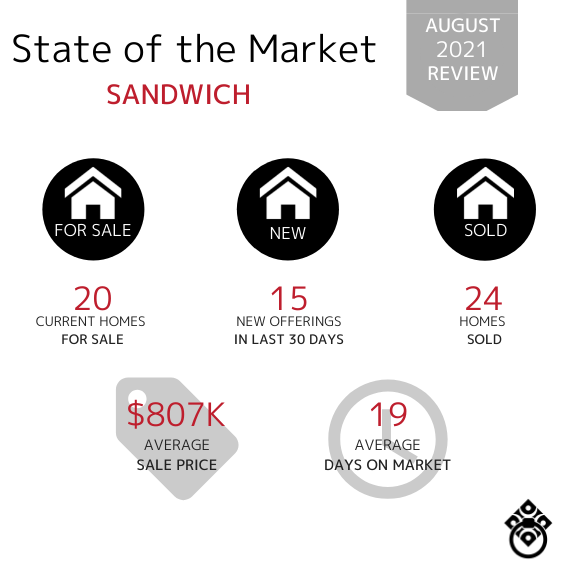 In the town of Mashpee, the average sale price increased significantly from $750k in February to a few months later to the million dollar bracket with one million dollars. This is still the case in August!
The average days on market have decreased significantly compared to March with 111 days. That is a HUGE change with it now being 14 days. Also, the number of homes sold has remained consistent month over month. For reference, the number of homes sold in June were 19 and we are now at 22. Pretty stable increase.
In the town of Falmouth, the average sale price has decreased from $986K in April to $799K in August. With limited inventory in most towns, there are still a good amount of new homes entering the market in Falmouth with around 40 homes for sale on average this summer. The number of homes sold monthly has increased from 44 to 53 in August.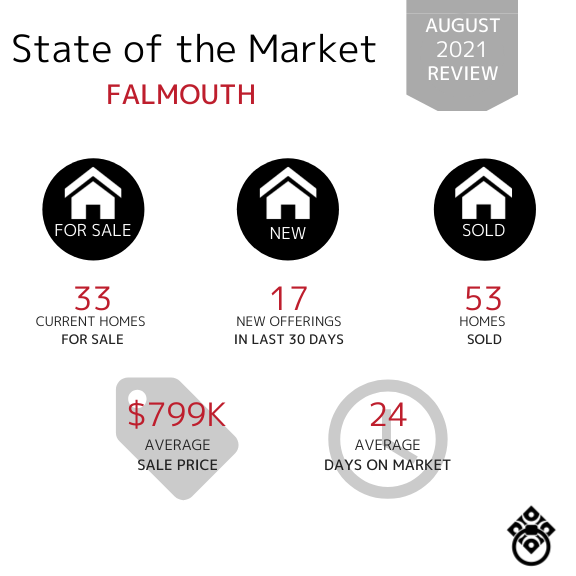 ---
If your town wasn't included in this report,
click here and let us know. We'll be happy to get you that data!
Learn How Much Equity Your Home Has Gained...
Experience matters, now more than ever.
Do you need help with Buying or Selling in this extremely active market?
Let us be your guide.
*Market Information obtained from MLSpin, Cape and Islands MLS and Keeping Current Matters*