2021 November Market Report 📈


Each month we crunch data from the South Shore and Cape Cod Association of Realtors® Multiple Listing Services (MLS) to help our clients and community better understand the state of the local real estate market.
This report is for single family homes in Plymouth County and Barnstable County. Please note Condos, Multi-family homes and land are excluded.
Mortgage rates are increasing, but they are historically low...
What does that mean? Well, just like most of the other experts are suggesting, we're seeing a projection for increasing mortgage rates. We've seen that even over the past few weeks, as mortgage rates have on average, ticked up above 3 percent. So as mortgages rates rise, it will cost more to purchase a home, and that's exactly what we've been talking about with affordability. Mortgage rates, prices and wages are the three levers for affordability, so if the mortgage rates are projected to rise, it will cost more, but the great context here that we love about this quote is the piece about the historical standards. If mortgage rates are ticking up a little bit it will cost more but they will remain historically low, based on projections, and that will support affordability. So that's great news for buyers but what we need to help buyers understand is buying before mortgage rates rise even higher.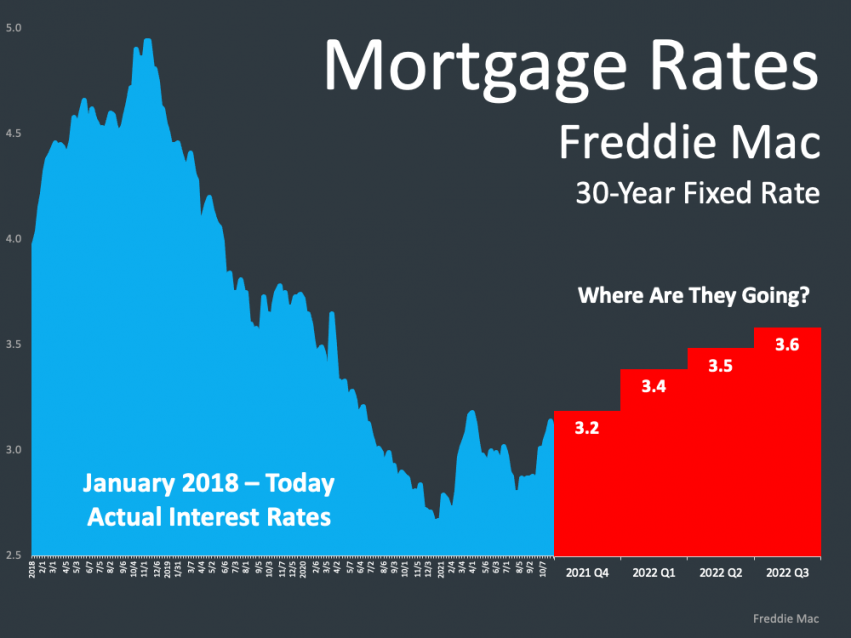 ---
"Right now, we forecast mortgage rates to average 3.3 percent in 2022, which though slightly higher than 2020 and 2021, by historical standards, remains extremely low and supportive of mortgage demand and affordability."

-Doug Duncan, Fannie Mae
---
Buying before rates and prices rise is key to affordability...
Let's review this data from Freddie Mac. What you can see here is that the mortgage rates were roughly, just under 5 percent in 2018 and they've dropped pretty significantly since then. We hit that kind of all-time low at the very end of last year early this year and they've started to tick up again, and so what people want to know is where are they headed. Similarly, as we saw in the quote before, you can see Freddie Mac is saying mortgage rates are projected to rise as well, roughly 3.6 percent by this time next year. And as we averaged out all the projections that we're looking at from the major players, we see roughly 3.5 percent mortgage rates next year, by this time next year. So as mortgage rates get higher it becomes more expensive to purchase a home and that's what we want to help homeowners understand. If they're thinking of waiting a year or two years, maybe even three, if they're ready to buy now, buying before mortgage rates rise is mission critical to that affordability lever.
Now what we also know is that mortgage rates aren't the only thing on the rise for next year; home prices are forecast to appreciate as well. What we can see here is the home price forecast for 2022 and as we look at the six or so major industry experts that we follow, they're averaging out to about 5.1 percent appreciation next year. Now what does that mean? Well, we've seen and we've talked about, over the past year, home prices have appreciated at a record-breaking level, 18, 19, almost 20 percent appreciation. So next year, the forecast is showing continued appreciation but at a slower or more moderate rate. Deceleration means that home prices are expected to continue rising, but at that decelerated rate which means slower or more moderate, so not projecting a decline in prices but a slower rate of appreciation. That means that it is going to get more expensive to purchase a home and we want buyers to be able to purchase before home prices rise, but why are they projected to continue appreciating? That's because inventory is still a big challenge, it's still a major question. As we look at the supply and demand conversation that we have over and over again, supply is low, demand is high, that's going to naturally make prices rise and so what we see is that the inventory situation won't be solved overnight. We'll still have an inventory challenge next year but likely softening because builders are coming back to the market and building more homes. We anticipate more sellers to feel less pressure coming out of the pandemic and maybe interested in selling their home, so going back into the market if they've held off.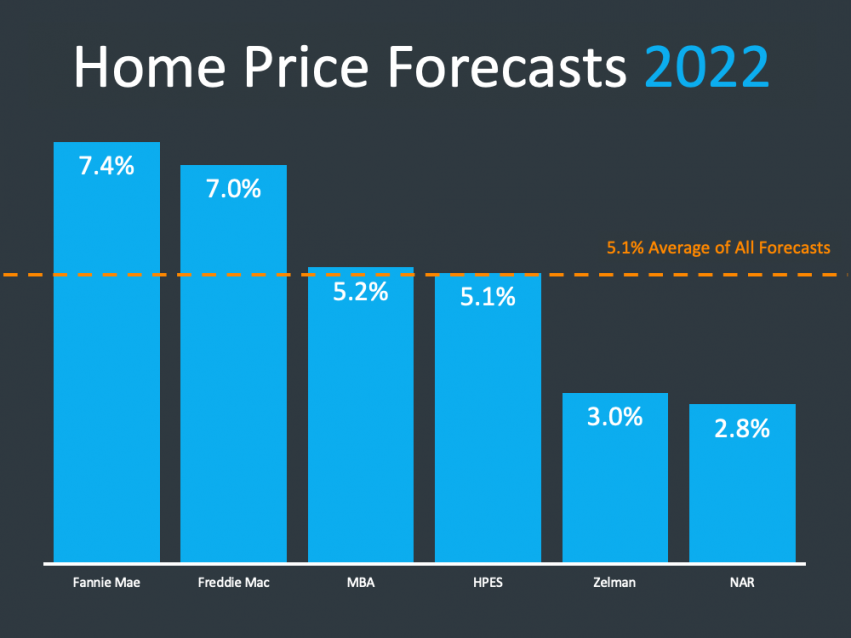 As we think about mortgage rates rising, prices rising, what does that mean for home sales next year? Home sales are forecast to increase this year and perform well again in 2022. So, what you're looking at here is the home sale forecast from four major entities that we follow; Fannie, Freddie, NAR and MBA, and in 2021 roughly 6.7 to 6.9 million home sales occured, indicating a very strong finish this year, and then next year potentially even exceeding that. The reason this is so powerful is if you look at last year, 6.5 million homes sold in 2020 and that was record-breaking. So don't be afraid of selling or buying right now. Do it before mortgage and prices rise in the spring.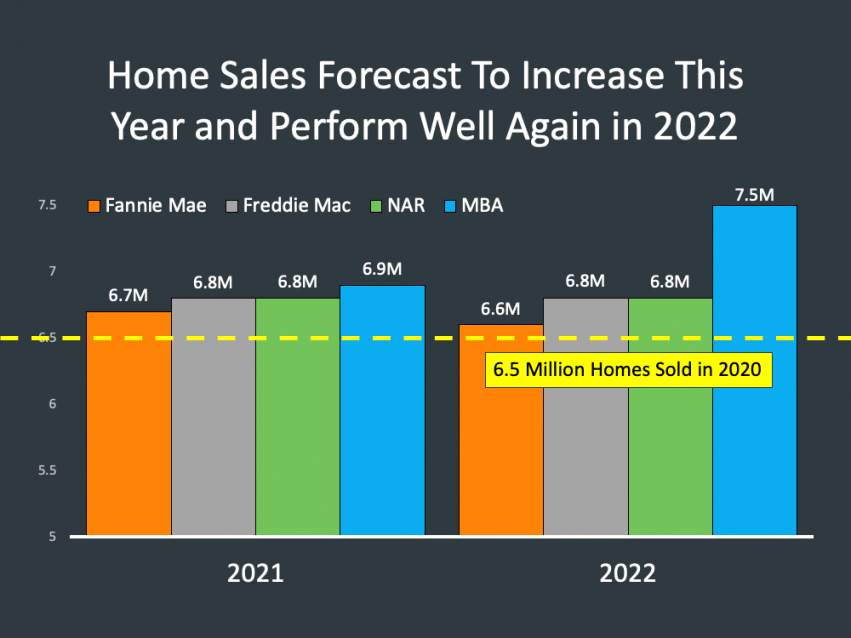 It's not all about the money 💵
Homeownership creates a different kind of wealth...
One thing we need to start talking about is the nonfinancial benefits of homeownership. We're seeing a different trend than what we saw previously in this country. We've been talking a lot over the last year, about the economic benefits with rising prices, equity rising across the country, but let's start to talk about the nonfinancial benefits and what that's looked like over the last year and a half across the country. Unison just did a report on the state of the American homeowner, and found that "Sixty-four percent of American homeowners say living through a pandemic has made their home more important than ever to them." Everyone could probably say on some level that has been true. We've had to work at home, educate our kids at home, work out at home, entertain ourselves.... as the list goes on, it's become more important. Eighty-three percent of homeowners say their home has kept them safe during the pandemic, no doubt home has taken on a new meaning for folks. Ninety-one percent of homeowners say they feel secure or stable or successful owning a home. We can say confidently that homeownership and the nonfinancial benefits of homeownership are growing and here's why. Think back to 2010, think about that time in our country, many people saying I don't know if the American dream is still owning a home. We saw a lot of people lose value in their homes in the recession, and certainly, young people that saw their parents go through that, they may not want to own a home. Today we can say that things are happening differently coming out of this crisis of the pandemic. Today, home has become much, much more important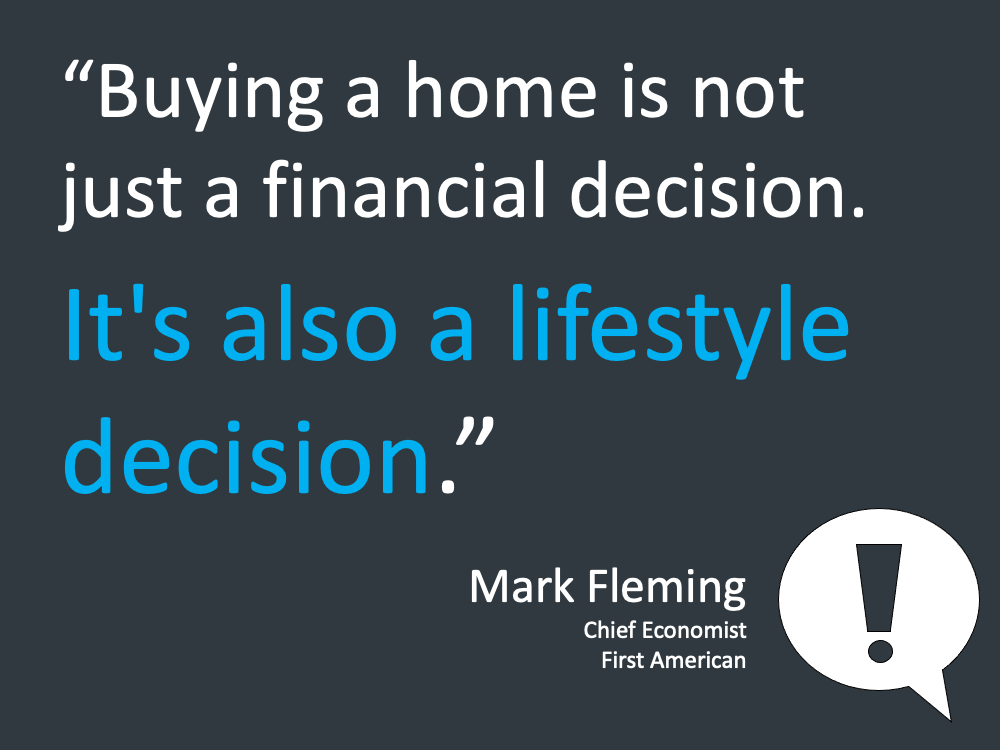 LET'S TAKE A CLOSER LOOK AT HOW YOUR TOWN DID IN NOVEMBER OF 2021
⤵️
In the Town of Plymouth, the amount of homes on the market have decreased from the beginning of the year. The average days on market remained low with 34 days on average. The average sale price has increased, coming in around 540k the last few months however it did rise almost 59K.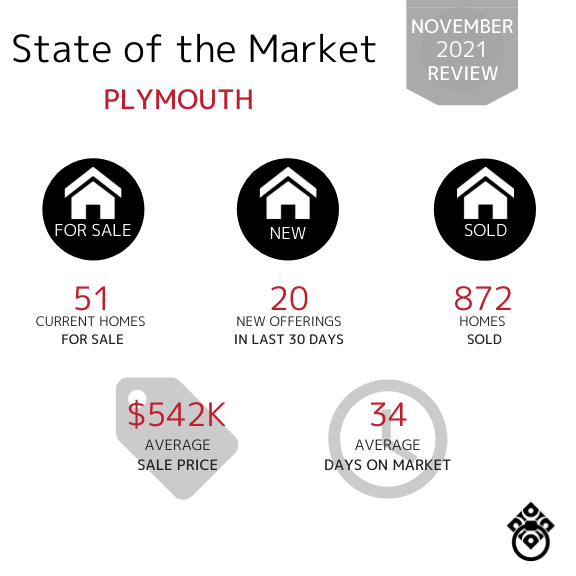 In the town of Hingham, the number of new homes entering the market has remained somewhat consistent as usual for the area. The average sale price has remained in the million dollar bracket at $1.275 million dollars this month. In addition, the town currently has 254 homes sold from January to November. This is an average number for the area.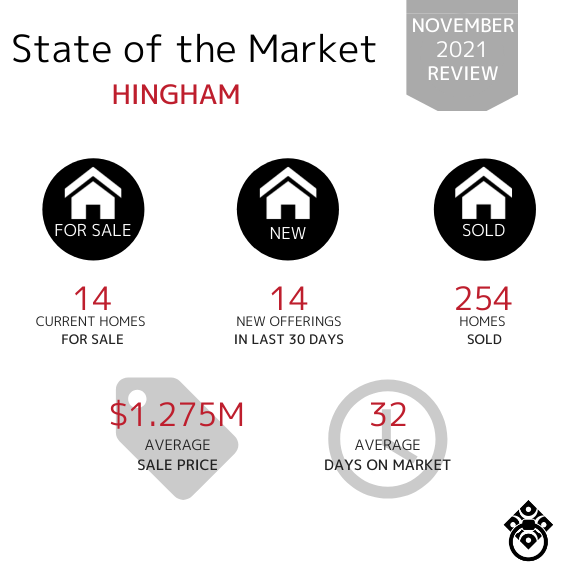 In the town of Duxbury, the average sale price is in the million dollar bracket with $1.15 million dollars. Although home sales have stayed relatively the same month over month on average. With 25 days in the month of November for average days on the market, this is a steady number on average for Duxbury.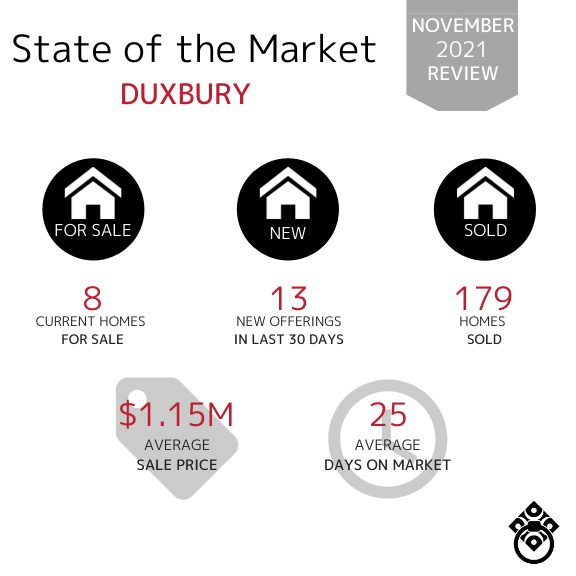 In the town of Marshfield, the number of homes sold remained consistent from January through November. The time properties are on the market on average is around 28 days. The Average Sales Price has stayed close to previous months, coming in at almost 700K.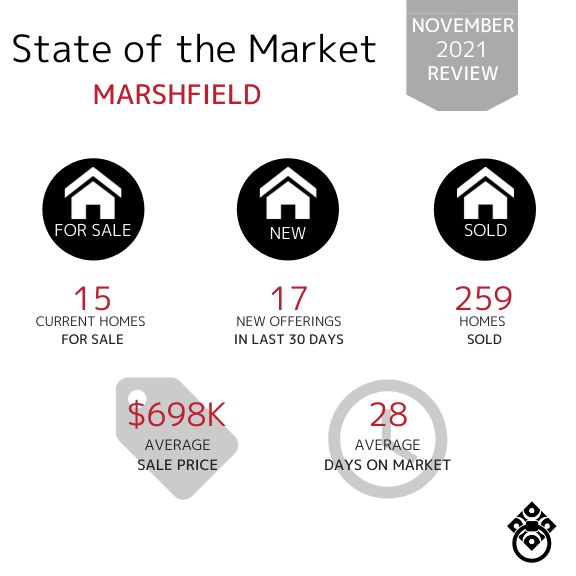 In the town of Norwell, the number of new offerings has increased slightly over the last three months. The average sale price has stayed similar over the past few months, averaging out at 970K.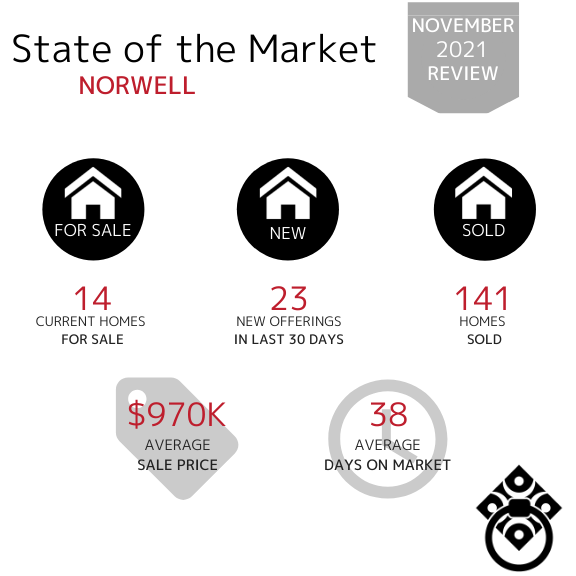 ---
If your town wasn't included in this report,
click here and let us know. We'll be happy to get you that data!
Learn How Much Equity Your Home Has Gained...
Experience matters, now more than ever.
Do you need help with Buying or Selling in this extremely active market?
Let us be your guide.
*Market Information obtained from MLSpin, Cape and Islands MLS and Keeping Current Matters*