84 Westcliff Dr #84📍Plymouth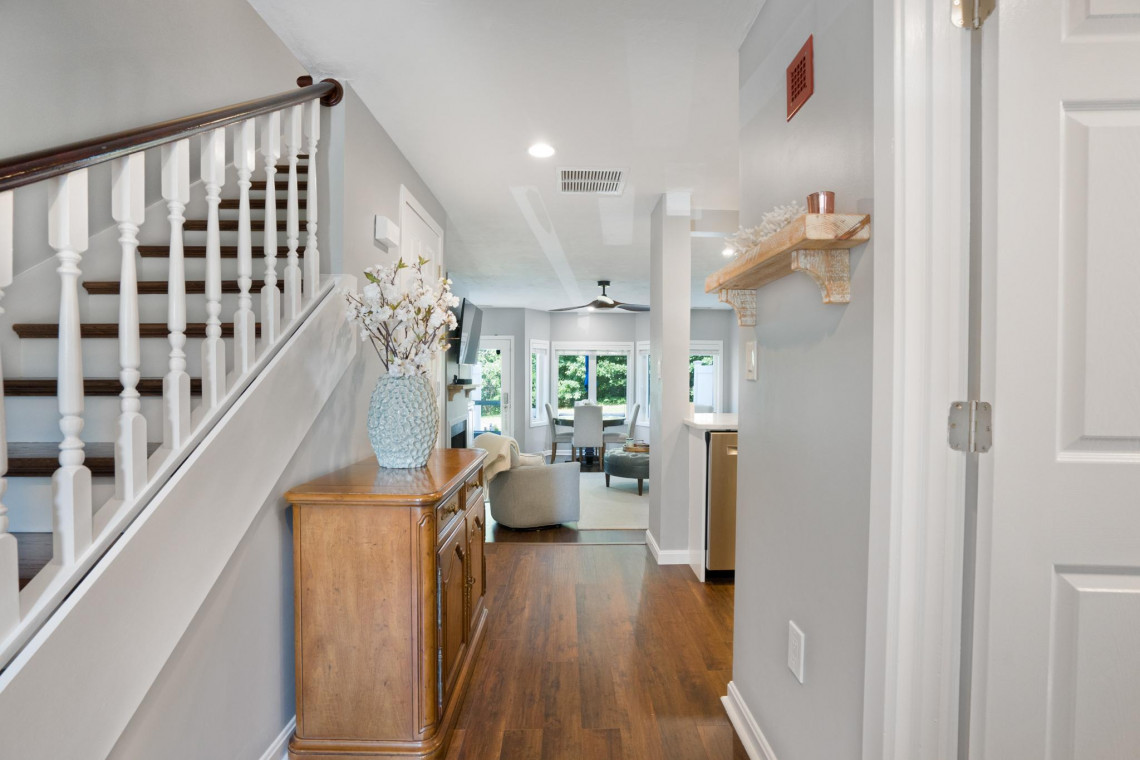 84 Westcliff Dr| Plymouth 📍
2 BD I 1.5 BA | 1,019 SF I $370,000
Welcome to 84 West Cliff Dr, where I stand as a testament to elegance and modernity. Prepare to be enchanted by a residence that effortlessly blends coastal living with the convenience of a low-maintenance lifestyle. Step inside and allow me, the home, to guide you through the remarkable upgrades and exquisite finishes that make me a truly exceptional residence........
Take a stroll across my stunning luxury vinyl plank flooring, which was installed throughout my entire unit in 2022. The vinyl stair nose molding adds a touch of sophistication to each step you take, while the fresh coat of paint enhances my ambiance, creating a modern and inviting atmosphere throughout my spaces. 🥰
The kitchen...
Let me lead you to my remarkable kitchen, where a remarkable transformation also took place in 2022. The new kitchen cabinets, with their soft-closing drawer glides and full crown detail, showcase the meticulous attention to detail that has been invested in my design. The quartz countertops, accompanied by a 4" backsplash, exude an aura of style.
My undermount stainless steel sink, complemented by the Trinsic honey bronze pull-down faucet and soap dispenser, provides both practicality and elegance. The removal of the wall behind the sink creates a seamless integration with the countertop, offering you a spacious and functional area. To further elevate your culinary experience, all of my appliances were replaced in 2022, including the 30" slide-in Bosch induction range, Bosch over-range microwave, Bosch counter-depth 36" French door refrigerator with a water dispenser, and a Bosch dishwasher. I've been designed to be the perfect sanctuary for passionate cooks and foodies!! ⭐️
Step into my living room....
Where the space has been transformed into a sophisticated and functional area with the addition of custom built-ins. With full crown molding, a new mantel, wine rack, and countertops, my living room exudes style and practicality. 🍷 (Wine is def, practical these days IMO)
The matching shelf in the entryway creates a seamless transition as you enter my abode. I'll include a picture of it below for you to see for yourself. To further enhance the ambiance, additional recessed lighting has been installed, allowing you to create the perfect atmosphere for any occasion!
My rejuvenated bathrooms have the addition of new 30" x 21" vanities with quartz countertops and a 4" backsplash enhances the overall aesthetics. It looks sooo nice.
With full extension undermount soft-closing drawer glides and porcelain rectangle undermount sinks, my bathrooms offer functionality and a sleek, modern appeal. The Symmons brushed bronze faucets, along with the new light fixtures and mirrors, create a spa-like atmosphere, allowing you to unwind and indulge in ultimate relaxation. PS. The first-floor bathroom received a special upgrade with the replacement of the light/fan, ensuring optimal lighting and ventilation.
Now, let me take you up my staircase....
The custom oak stair treads and risers, installed in 2022, showcase the craftsmanship that went into me. The risers were carefully painted, while the treads were stained to match the existing handrail, adding a touch of grandeur and sophistication to my design.
Storage is of utmost importance, and I've been designed to meet your organizational needs. Custom closet shelving has been added to all closets, providing ample space to keep your belongings neat and organized.
Your comfort and convenience are of utmost importance to me. In 2022, new ceiling fans were installed in the living room and both bedrooms, ensuring optimal airflow and a cool environment during warm summer months.
As you enter the primary en-suite, you'll immediately notice the thoughtful addition of motion-activated lighting in my master bedroom closets. I've been designed to prioritize your convenience, ensuring that finding your favorite outfits is effortless and seamless.
I've been meticulously upgraded and adorned with exquisite finishes to offer you the epitome of contemporary living in a low maintenance community. As you make this home your own, immerse yourself in the remarkable lifestyle that awaits. Welcome HOME, to 84 West Cliff Dr.
Don't forget about my impeccable location....
💫 As a resident of the esteemed gated White Cliffs Oceanfront community, you gain access to a world of unparalleled amenities the second you own your home. Play a spirited game of tennis, challenge yourself with 18 holes of golf on the meticulously maintained course, or embark on a fitness journey at the state-of-the-art gym.
💫 The coveted clubhouse becomes your social hub, where you can indulge in sunset cocktails, savor delectable dinners, and forge lasting connections. You'll have to take a dip in the mineral water four-season swimming pool! And when the mood strikes, just dip your toes in the silky sands of the private beach—a true sanctuary just steps away from your front door. 😎 White Cliffs is the only community with it's very own TRAM to the beach....and yes, you'll have full access.
A few of the updates:
✅ VINYL PLANK FLOORING THROUGHOUT
✅ UNIT FRESHLY PAINTED
✅ RHEEM ELECTRIC WATER HEATER
✅ UPDATED KITCHEN
Frequently Asked Questions...

What do I have access to at White Cliffs once purchasing?
Golf, Pool, Beach, Tennis, Fitness Facility, Dining and Member Social Events. (Amenities are not a la carte when you purchase property.)
Are there are any special assessments on your particular building coming up? No.
What is the pet policy? Household pets only (dog, cat, aquarium fish, caged birds) Is there a restriction on pets? Residents are only permitted (1) Dog and (1) Cat per unit.
How much do I have to spend via dining per year? All memberships have a $1000.00 annual food minimum PER YR. This minimum is to be spent between February 1st through December 31st. Only food charges apply. Charges will appear on members monthly statement and are subtracted from this minimum. Alcohol, tax and gratuity do not figure into this minimum.These are paid each month as they appear on one's statement. Overspending does not carry forward. If at year end, a member has not fulfilled the annual food minimum, the remaining balance will then be charged to their account.
Where do I spend the food minimum? Dining in the Restaurant or The Cliff House Cafe, Take-out in the Restaurant, Beach or Pool, Attending a Member Social Event or Golf Event or Hosting a Party/Event (that includes using food provided by WCCC)
HOA for this unit: $492 (covers sewer, snow removal, reserve funds, management, refuse removal, exterior & road maintenance, landscaping, master insurance, and security)
White Cliffs additional monthly fee: $651.14 (covers beach nourishment, repair & reserve fee, and country club fee.)
🏡Open Houses🏡
July 28th-30th
Friday 4P-6P
Sat 11A-1P
Sunday 11A-1P
Proudly offered at $370,000
For more information contact listing agent
Susana Murphy
508-345-5632