The ultimate entertaining pond front home.
Take a journey down the long, winding tree-lined driveway to this pond front oasis. Escape the day-to-day hustle and enter into this welcoming custom-built 4,083 sq ft Colonial to sweeping views of Morey's Hole pond. This home offers the best of both worlds – privacy delivered by the wooded lot and private beachside living right in your backyard!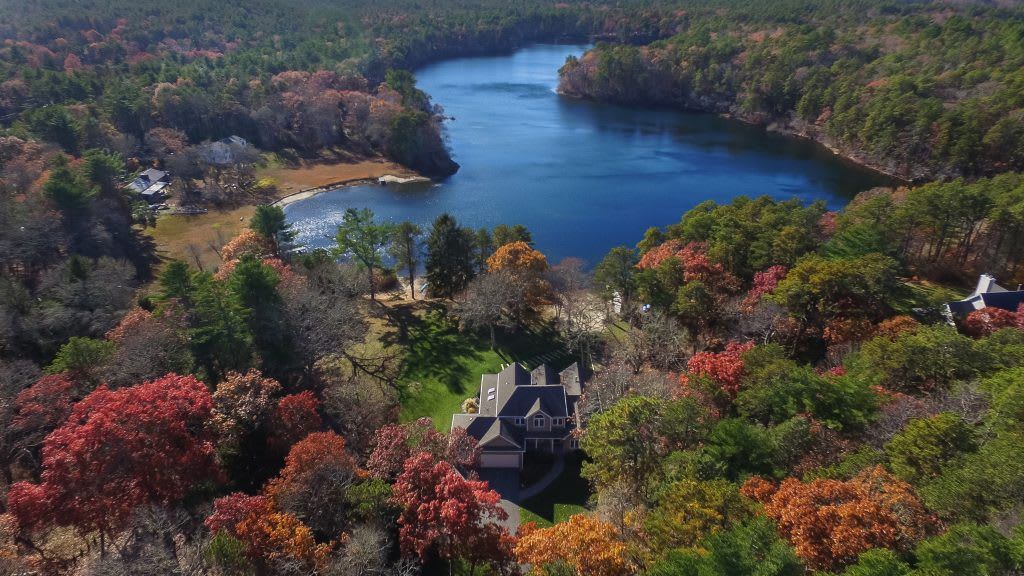 Spend your summers swimming, fishing and boating with 174 feet of water frontage. Soak in the summer sun on your private beach and enjoy all the fun summer has to offer without the hassle of packing up the car (and the kids!) to go to the beach. Watch as the sun sets beautifully across the water – these will be the most breathtaking sunsets you'll ever see – and the stars in the sky as they shine brightly in the summer night.
Wake up and catch the sunrise from the boathouse, a two story building at water's edge with second story deck – an artist's dream! Envision sitting high up above the pond watching the sun rise or set while painting the landscape of this beautiful property. This is the perfect space for a studio of any kind! End your day with a glass of wine on the dock after you've tied up you canoe.
Bonfires, s'mores and good company will make for the perfect fall evenings. Curl up with a blanket and hot chocolate and the company of good friends and family while breathing in the crisp fall air. Sit back knowing that this little slice of heaven does exist, right in your very own backyard.
The fun won't stop when the snow starts to fall. Watch the kids ice skate and learn to ice fish on the frozen pond throughout the winter. Snowball fights and making igloos will consume your time while frolicking in the winter snow! Every season is something special here.
Looking for more adventure? Look no further. Explore the 3.33 acres of land, full of walking trails with much to offer from the beloved and cherish former Camp Child grounds. Here you will find much history from a time when this pond was home to many adventurous children throughout the summer months. Spend your time finding the various buildings that still stand and feel the connection to such a special place.
There is no lack of things to do or luxuries to enjoy at 445 Ship Pond Rd, the possibilities are endless.
For more information about this beautiful property, contact listing agent Susana Murphy – 508.345.5632 or [email protected]