2022 ALANTE MVP: JEN EATON
2022 ALANTE MVP:
JEN EATON! 🤩
A letter to Jen from our Founder;
Dear Jen,
Nothing pleases me more this year than to award you with being ALANTE's 2022 MVP, congratulations!
This recognition was voted unanimously by everyone at the company and it's given to the one sales team member that excels in all areas that make ALANTE rank as one of the most distinguished boutique real estate companies in the South Shore and Cape Cod.
This year you excelled not only in sales by exceeding your goals, generating over 10 million dollars in production, but also in the areas our company values most, our core values.
I speak for everyone at the company when I say the team excels because of your great contribution to it. Having your positive attitude always available and ready to lift everyone spirits, having you participate in company events and trainings, having you embrace the culture and share it with others, and having you always be willing to lend a helping hand to your teammates and your clients shows what a great heart you have and we are all so grateful to have you share it with us.
Over the years, I have watched you become a great student of the industry and business, I am proud to have watched you grow into an indispensable professional in our industry. I am very proud of you, Jen. Watching your successful journey is why I opened this company, so thank you for allowing me to lead you and coach you, it's been a true honor.
You have built a strong real estate career, one to be proud of, you have joined those that reach their CAP consistently every year since you joined the company, you have learned to make a six figure income consistently since you joined the company, you are ALANTE Jen, thru and thru.
Keep up the great work, your biggest fan,
Susana Murphy
Broker, Owner
Work-Life 2022👇
5th year reaching her CAP!
Here at ALANTE, we are committed to helping our sales team reach a 6 figure income every year and their greatest potential. We do that by allowing our Realtors to keep 100% of their commissions once they reach a certain goal.
On your 5th year in a row, a huge congratulations from all of us here at ALANTE, we are so proud of you!
Read all about how she did it here!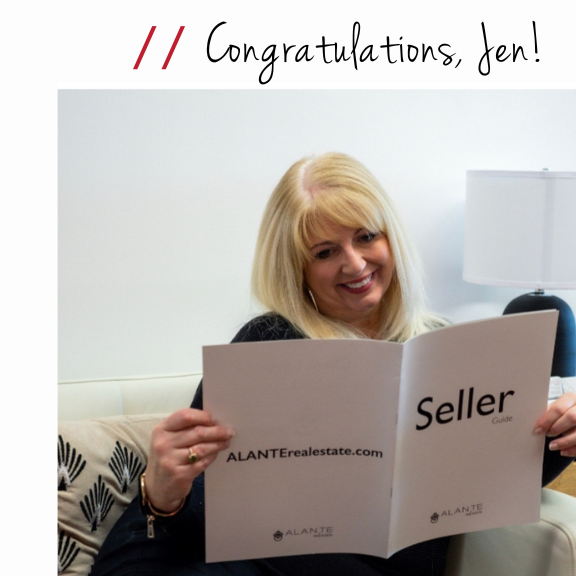 6 Year Anniversary with ALANTE!
August was Jens 6th work anniversary with ALANTE! For this amazing milestone our team was able to celebrate the business you have built for yourself throughout Cape Cod and The South Shore with ALANTE, Woohoo! 🙌🏼
For those in the real estate industry, a work anniversary is also a time to celebrate the years of experience that have been gained.
Here's to many more years of success, Jen!☀️

We are so lucky grateful to have you on the our team and we can't wait to see what you do in 2023.