Are you nervous to sell your home right now?
What if you could still sell your home for top dollar while respecting social distancing?
Barbara and Greg, a retired couple in their 70s, were seeking to relocate off Cape Cod once the Spring Market came around in late March. Thinking they had plenty of time but hearing concerning news from China, they wanted to be ready at a moment's notice..
"Greg and I put a deposit on a house we wanted in early February. There was talk of a virus in Wuhan, China, but we watched from afar without thinking how it could impact the sale of our Cape Cod home." - Barbara Kimball
Kim came highly referred from an off Cape agent and we are so happy they called us!
HERE IS HOW WE DID IT ⤵️
VIRTUAL CONSULTATION
1/3/2020
Kim Hanlon originally received a call from Barbara & Greg back in January with intentions to list their home during the spring market. At this time, there were mere rumblings of a virus in China, but no restrictions in the United States. With that, Barbara and Greg decided that April would be the best month for them to sell.
Had Kim gotten the call today, a thorough pre-sale consultation would be scheduled with them either by phone, FaceTime or Zoom video conference to discuss their needs, answer all of their home sale questions. We present our proven marketing campaign and strategy to successfully sell their home, since our Virtual Selling process has officially been put in place.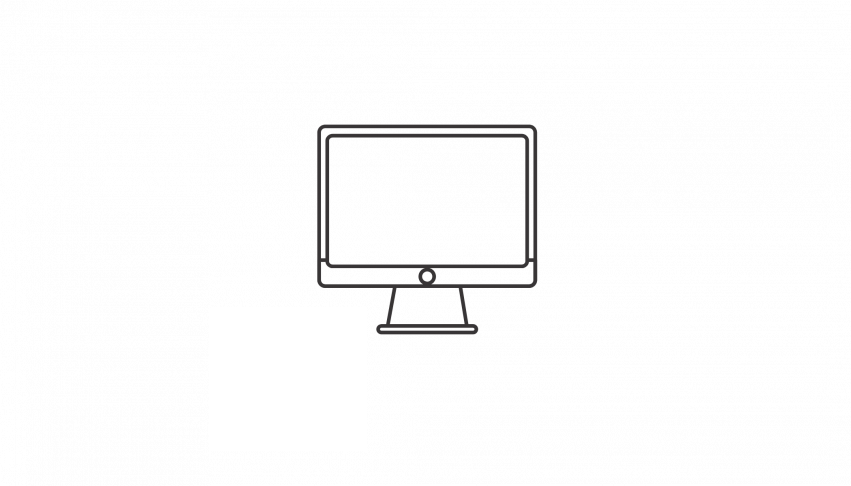 ONLINE CONTRACTS
2/20/2020 & 3/2/2020
We are happy to be a paperless company and with the use of our online document transaction software, none of the paperwork needs to exchange physical hands and can be safely stored and signed online for the convenience of our clients.
Barbara and Greg originally signed their contracts with Kim in February before any of the CDC precautions and guidelines were put into effect. Although there was no issue then, they chose to put their home on the market before things got worse with the spread of Coronavirus.
We utilize Docusign so you can easily sign all contracts and documents from the comfort of your own home and that's exactly what Barbara and Greg did when they needed to amend their original contracts.
On March 30th, Barbara and Greg also electronically signed their P&S on the sale of their home!
Super simple and super safe!

VIRTUAL STAGING
2/20/2020
When it comes to staging and getting your listings to look like a million bucks, we've got it! Our seller's homes are easily recognizable online in photos as we take the time to walk each of our clients through a step by step checklist to best prepare the home for their photography appointment.
In the case of 5 Centerbrook Ln, Kim Hanlon was able to do a custom staging process without any guidelines yet in place from the state of Massachusetts to successfully prepare them for getting the home ready for Professional Photography.
Greg and Barbara did an exceptional job of following the ALANTE staging guide and checklist that Kim presented to them and were well on their way to being "packed and ready to move." We are so thankful to them for getting their home prepared so quickly!
We are set up now to do this virtually via FaceTime since we already have a guide and a checklist we provide you ahead of time to follow along, it's fool proof and so easy to use!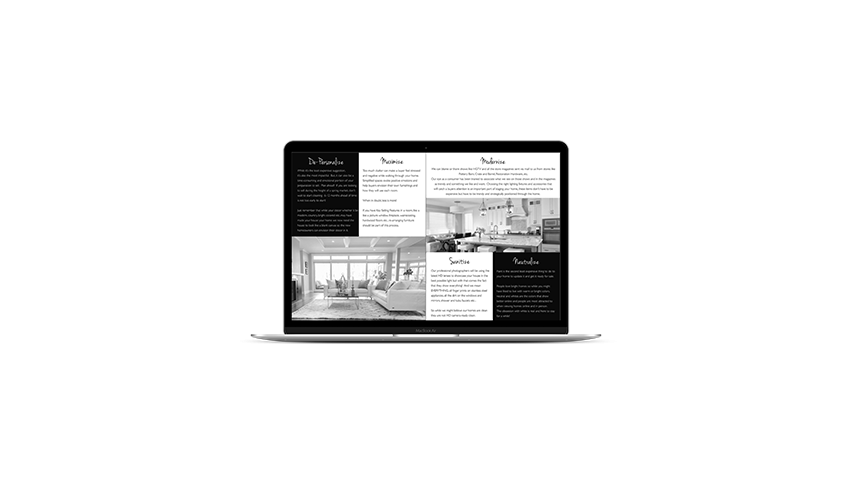 STUNNING PHOTOGRAPHY
3/17/2020
The first impression is crucial. Buyers are looking through thousands of property photos as they search for a home. With only a short window to capture a buyer's attention and have your listing stand out, your property photos have to stop them in their tracks.
Our professional photographer Bryan followed the CDC guidelines that were now in place, they were expedient, professional and got the job done, photography was beautiful.
"I asked Kim to move up the pictures & open house and the entire ALANTE team got behind us pushing the home to market." - Barbara Kimball Here is where the magic happened...
3/18/2020 - 3/21/2020
Our marketing department who is also working safely virtually at this time from their home, started the pre-marketing campaign for this home to get the word out and start exposing the property to as many qualified buyers as possible. They used advanced online marketing and social media tools to target, track and qualify buyers. For each property we market, we determine the profile of the potential buyer and run custom campaigns that speak to them.
Our company database consists of 16,250 people, we tailor and tag each person within our database to a create an appropriate buyer profile. We customized our database to a list of buyers that fit the criteria of Barbara and Greg's home. This property list matched 1,200 potential buyers. An email marketing campaign was created and sent to them announcing the new listing entering the market.
This marketing campaign resulted in 804 views on the property between Zillow and Realtor.com - the top two most used real estate search engines.
NO CONTACT SHOWINGS
3/21/2020
We have put an extensive qualification process in place to eliminate those just in the browsing stages from the qualified buyers ready to purchase a house. Several steps need to be followed and completed by the buyer and buyers agent before we allow them into the properties. Showing precautions are of the utmost importance.
Here was Kim's Modified No Contact Open House process for this home: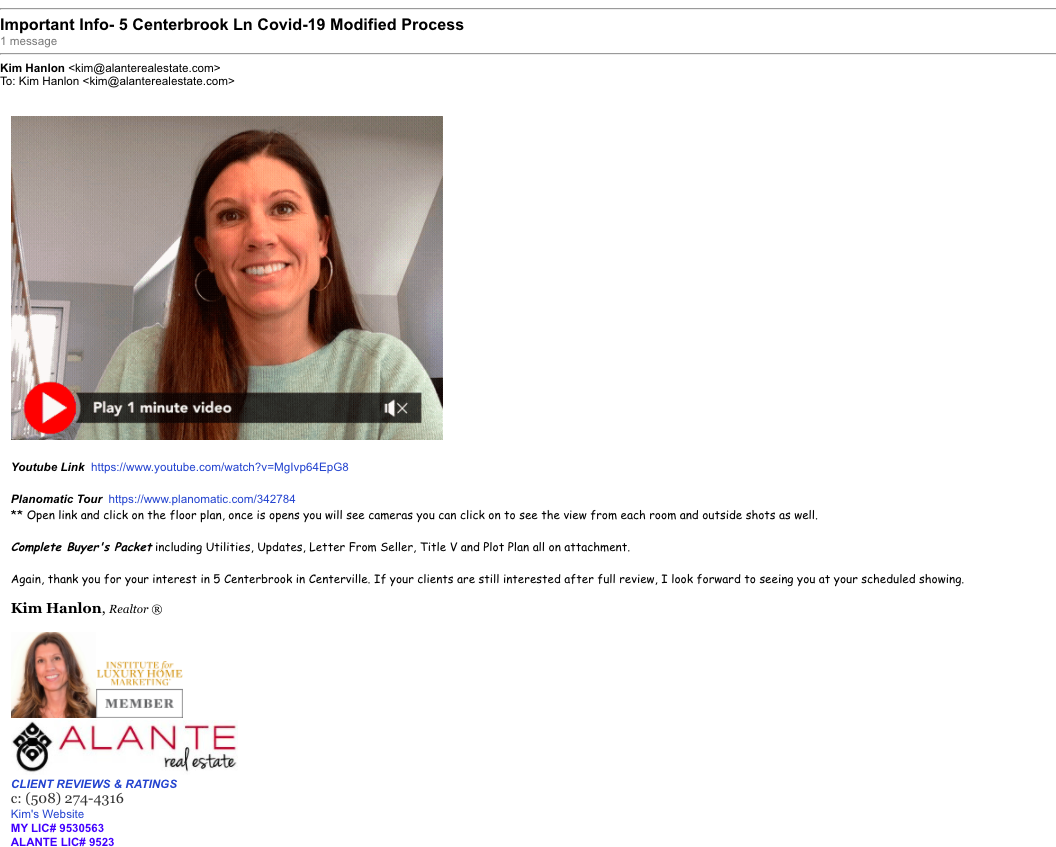 Within Kim's video email, she explained the process of how buyers would be able to view the home in person;
• All buyers must be pre-qualified by their real estates agent or by Kim
• 15min Appointment Windows for each potential Buyer
• No Contact - All doors and closets would be left open and all lights on
---
After working tirelessly to screen through all inquiries from all of our marketing efforts, Kim Hanlon was able to narrow it down to a total of 12 qualified buyers ready to purchase right away!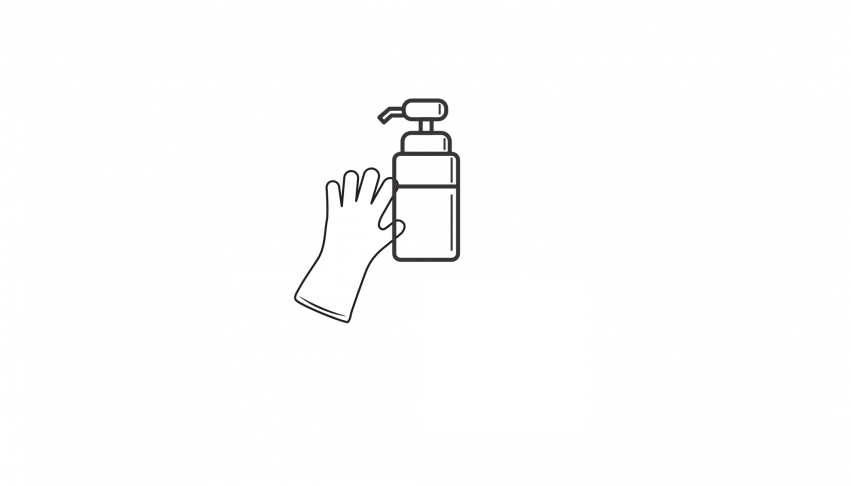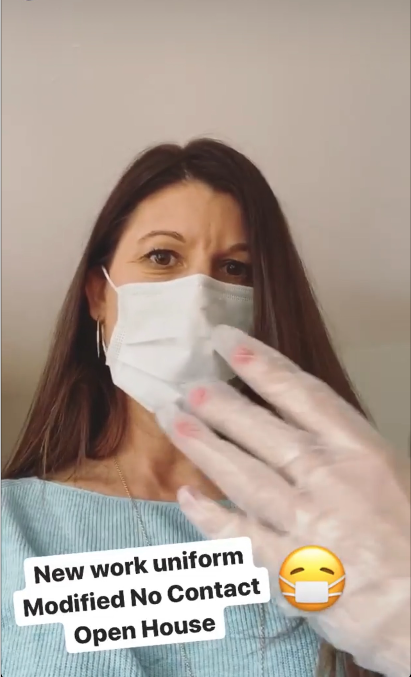 A Modified No Contact Open House by appointment only was held on Saturday March 21st between the hours of 12pm and 3pm. Kim welcomed each individual set of buyers and their real estate agent into the home providing gloves and booties prior to entering the home. She maintained social distance while she allowed each buyer to tour the home while no touching any surfaces throughout the home.
The Results
At the conclusion of the Modified No Contact Open House on Saturday, March 21st, Barbara and Greg happily received FOUR offers on their home!
Their house is now under contract after only having to show the property for a few hours on ONE day.
The Home Inspection and necessary repairs were carefully coordinated to maintain the health of all concerned by social distancing at this time.
We are just about 1 month away from Closing day.. which by the way, will also be done without face to face interactions, per our Virtual Selling process.
ELECTRONIC CLOSING
5/21/2020
Their Attorney will sign closing documents on their behalf via Power of Attorney. The end.

"All along we felt propped up by a team of people working hard on our behalf, always helpful and very professional. One of my friends said she never heard of anyone selling their house in one day, never mind during a pandemic. The people at ALANTE made it happen.
Greg and I are in our 70s and said to be particularly vulnerable to the virus. Kim took great measures to insure our safety and the safety of potential buyers throughout this process. She provided booties and gloves, and she made sure all door knobs remained disinfected both during and after the open house.
At the same time she remained cheerful and professional every step of the way. Home Inspection and necessary repairs were carefully coordinated to maintain the health of all concerned by social distancing. Kim's knowledge of the market, necessary repairs to meet standards, and selling in general has been very reassuring."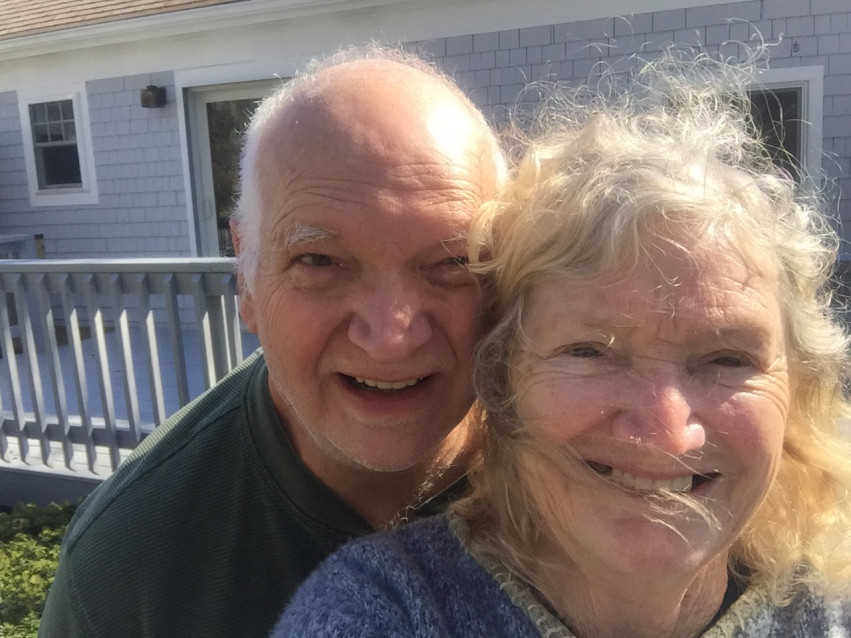 Schedule your Virtual Consultation today!
We're ready to embark on this journey with you, and make it unforgettable.