Best Thanksgiving Parade on The South Shore
A local's guide to the perfect Thanksgiving Parade experience!🦃
When is the parade?
The Plymouth Thanksgiving Parade is happening on Saturday 11/19!
This parade is an annual tribute to the pilgrims who first arrived in Plymouth, Massachusetts in 1620.
It is the second largest Thanksgiving parade in the United States to the infamous Macy's Day Parade.
The parade features hundreds of captivating floats, marching bands, and giant helium-filled balloons...and a TON of local spirit filling our streets🤩
The parade route runs for 2.5 miles through the streets of Plymouth, ending at Plymouth Rock.
Every year, thousands of people line the route to watch the parade.
If you're planning to attend the 2022 Plymouth Thanksgiving Parade...
KEEP READING!
We have put together a list of TO-DO's before the big day, assuring you have the local's secret to the perfect morning! 🦃 👇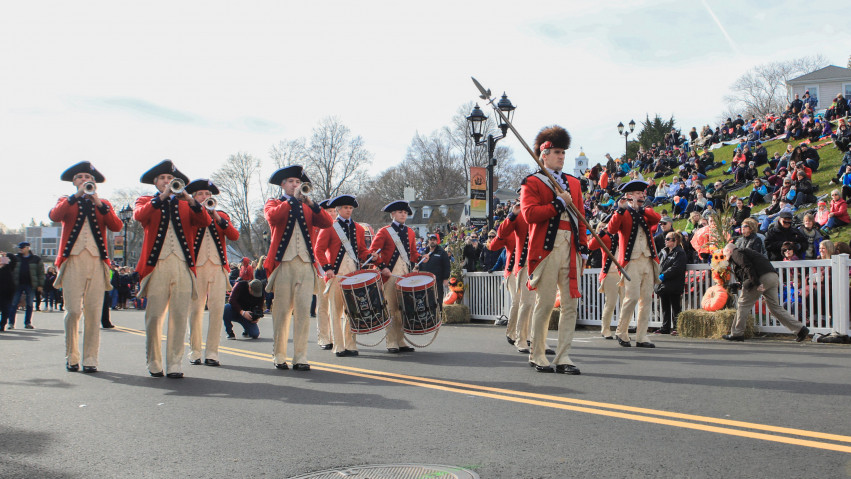 1. Prep the Night Before!
If you're a planner, like us (😉) make sure you prep everything you need the night before.
What will you need?
Blankets, Hats, Scarves, Comfortable footwear, Gloves, Snack bag...
The parade starts at 10 am, but as a local - plan to get downtown before 8:30am.
2. The Morning Of: WAKE UP EARLY!
Not everyones favorite, but set your alarm. ⏰
More time is better than rushing!
Get up, shower & get ready for the day!
3. If time allows, stop by a local coffee shop☕️
After all, it is the season of giving.
Our favorite thing to do is support local business especially the morning of parade day.
Some of our favorites for breakfast or coffee include Vela, Will & Co. & More!
Send us a DM on instagram for a full guide of our favorites.
Go in, smile & thank them for being open! Kindness is free. ❤️
4. If coffee is not your thing...
Many of Plymouth's iconic spots will be opening early to offer the best of the best, food & beverage before and during the parade.
Here's what you'll need to know👇
Kilwins (150 Water St) Opens at 8 am - free samples, coffee & lattes!
Uva Wine Bar (46 Main St) - If you're in the mood for a cocktail grab a festive mimosa 8a-12p
Keegans Creations (20 Court St) - 8am hot beverages, signature breakfast croissants!
Main St Sports Bar (39 Main St) - 9:30 serving breakfast & sandwiches, maybe a bloody mary or two..
Will & Co. (8 Court St) - 7:30am for the early birds!
5. Rally the troops!
Pack the kids, friends, family! We recommend leaving about an hour and 15 before the parade starts. (Yes! Even if you live in Plymouth!)
6. Parking
The parade route will be closed to vehicular traffic at 8:30 a.m.
If you know someone who lives Downtown that has extra parking, we recommend reaching out to them to see if you can get a spot as close as possible.
General Parking Areas for the Parade we recommend:
Plymouth North High School, Cordage Park, Shuttle Bus Service will be provided this year to all visitors from 7:00 a.m. through 3:00 p.m.
Shuttle Bus service will run from the Plymouth County Registry of Deeds and District Court Parking Lots (50 & 52 Obery Street) to Lincoln Street.
An additional pick-up area will be at the Kingston MBTA Commuter Lot and will drop off/pick-up on Lincoln Street.
7. Pick your parade view!🎉
The parade route covers all of Main St and Downtown Plymouth.
If you have plans later in the day, plan to sit where the parade begins!
If you aren't in a rush...
Our favorite spot is on Cole's Hill in front of the rock overlooking the Ocean. 😉
Other great spots include Main St (tons of local biz will be open to stop by!) and On the Corner of Water St!
Trust us, there is NO bad seat in the house when you are surrounded by the culture in America's Hometown.
8. Sit Back & Enjoy!🦃
Enjoy the centuries of Plymouth come to life through the parade.
Patriotism and hope is revived in the hearts of observant adults and children as the floats, drum and bugle corps, and military bands march thru the streets honoring the courageous defenders of our country: the men and women who serve in the Army, the Navy, the Marines, the Air Force and the Coast Guard.
and maybe even a few surprises & guest appearance from Santa & Mrs. Clause 🎅🏻
Will we see you there?